Texas School District Selects Acuity Brands High Performance Lighting Solutions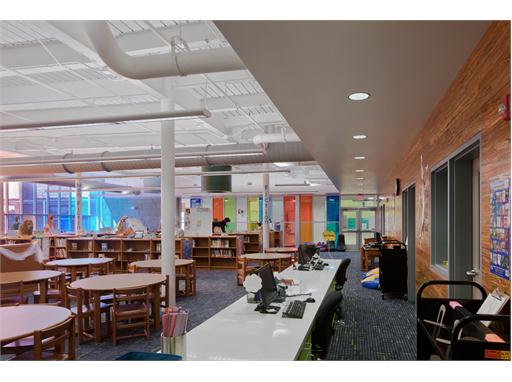 San Antonio's Comal School District saves approximately $54,000 in energy with help from Acuity Brands lighting and controls solutions.
The Comal School District ("District") in San Antonio is installing indoor and outdoor lighting and controls from Acuity Brands in schools across the district to achieve significant energy and maintenance savings. The District needed energy efficient lighting and controls solutions for multiple high performance school designs.
Kinder Ranch, an 87,300 square-foot elementary school, is the first in the District to feature a high performance lighting solution. The District installed 2' x 4' Lithonia Lighting® SP T8 fluorescent troffers and 2' x 4' WRT T8 fluorescent troffers in classrooms and hallways. Gotham® 8-inch AF compact fluorescent downlights were installed in common areas for architectural downlighting. As a way to further maximize energy savings, nLight® lighting controls were installed to customize lighting for school activities such as quiet time and projector usage.
To address energy savings inside and out, Kinder Ranch utilized a combination of Lithonia Lighting WST series luminaires and KSF2 luminaires for area lighting in parking lots, entrances and exterior hallways.
"The custom lighting controls solution offers many options for energy savings, especially in a school setting," said Zachary Schneider of CMTA Consulting Engineers. "We evaluated the sequence of operations for the school and tailored specific controls for maximum energy efficiency. Complementing the control system, the high efficiency T8 fluorescent troffer lighting fixtures provide a longer lifespan and therefore require less maintenance."
Kinder Ranch Elementary successfully completed the 2011-2012 school year as a high performance school, exceeding the ASHRAE standard and total energy usage of 24.5 kBtu per square-foot-per-year. Comparing Kinder Ranch to other elementary schools in the area, the District saved approximately 45 percent on utility costs. For the 2011-2012 school year, the energy savings was roughly $54,000.
Comal School District is using the Kinder Ranch Elementary high performance school model to construct an elementary school, middle school and high school.
With a comprehensive offering of lighting systems (both fluorescent and LED), controls and daylighting capabilities, Acuity Brands tailors solutions for each school system's specific economic, architectural and operational requirements.
For more information about lighting solutions from the Acuity Brands portfolio,please visit www.AcuityBrands.com.
CONTACTS
Neil Egan

Director, Communications

United States

Neil.Egan@acuitybrands.com

770-860-2957