Tampa General Medical Group Selects Acuity Brands LED Lighting and Controls for New Family Care Center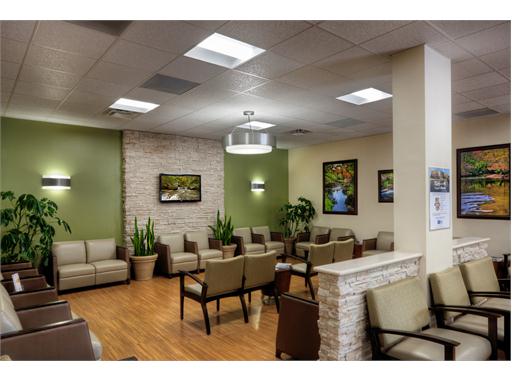 Tampa General Medical Group installed LED lighting and controls from
Acuity Brands, Inc.
​ in its newly constructed Family Care Center in Brandon, Florida. The 10,000 square-foot ambulatory clinic features the latest in modern lighting technologies to minimize energy costs and provide quality lighting for medical staff and patients.
The ambulatory clinic specified
VT Series 2' x 2' LED luminaires
​ from Lithonia Lighting®, with integrated nLight® digital controls. The VT Series LED luminaires deliver high-quality volumetric lighting to provide a uniform balance of illumination throughout exam rooms, nurses stations and waiting areas. The nLight® digital controls from Sensor Switch® enable convenient control of lighting for medical staff and patients. The luminaires feature capabilities that maintain a constant light level during the life of the luminaire, while saving an additional 10 percent of the energy compared to a VT Series luminaire without the nLight controls.
"The long life of the LEDs translates to less maintenance," said Jose Marotta, Tampa General Hospital Chief Electrical Engineer. "A high color-rendering index (CRI)* allows doctors and nurses to accurately assess patient status and condition visually. Additionally, the controls adjust the LEDs with our customized settings, but with one touch, can be turned to 100 percent.  It helps keep everyone comfortable while saving the most amount of money."
In addition to the VT Series LED luminaires, the space is also outfitted with a variety of other energy efficient lighting solutions from the Acuity Brands portfolio. Winona®
Drums Series pendants
​ and
wall mounts
​ were used for decorative illumination in conjunction with Lithonia Lighting downlights in the reception areas. Additionally, emergency lighting from Lithonia Lighting was placed throughout the facility.
For more information on lighting solutions and digital controls from the Acuity Brands portfolio, please visit www.acuitybrands.com
​
or www.lithonia.com
​
.
* The color rendering index (CRI) is a measurement of the ability of a light source to reproduce the colors of various objects faithfully in comparison with an ideal or natural light source.
About Acuity Brands
Acuity Brands, Inc. is a North American market leader and one of the world's leading providers of lighting solutions for both indoor and outdoor applications. With fiscal year 2012 net sales of over $1.9 billion, Acuity Brands employs approximately 6,000 associates and is headquartered in Atlanta, Georgia with operations throughout North America, and in Europe and Asia. The company's lighting solutions are sold under various brands, including Lithonia Lighting®, Holophane®, Peerless®, Gotham®, Mark Architectural Lighting™, Winona®, Healthcare Lighting®, Hydrel®, American Electric Lighting®, Carandini®, Antique Street Lamps™, Tersen®, Sunoptics®, Sensor Switch®, Lighting Control & Design™, Synergy® Lighting Controls, Pathway Connectivity™, Dark to Light®, ROAM®, RELOC® Wiring Solutions, Acculamp® and eldoLED®.
About Tampa General Medical Group
Tampa General Medical Group, a division of Tampa General Hospital, was formed in October 2010.  The group has grown to include physicians specializing in cardiology, digestive disorders, endocrinology, family practice, hepatology, internal medicine, nephrology, organ transplantation and surgery. 
CONTACTS
Neil Egan

Director, Communications

United States

Neil.Egan@acuitybrands.com

770-860-2957