Small City Thinks Big: West Richland Implements Washington State's First Citywide Smart Lighting Conversion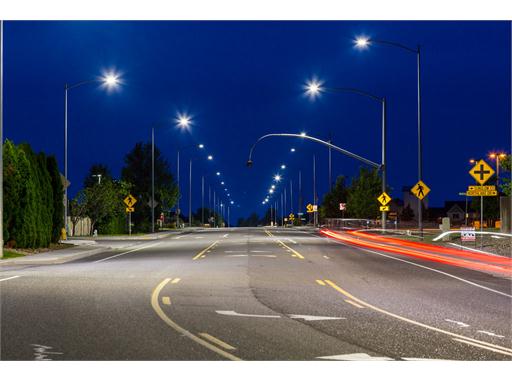 ATLANTA. – August 12, 2015 – The City of West Richland recently completed the State of Washington's first all-city LED lighting conversion, using smart lighting solutions from Acuity Brands, Inc. (NYSE: AYI).  The city upgraded 1,097 street lights to high performance Autobahn LED luminaires from Acuity Brands, improving the quality of lighting on city streets, reducing lighting energy use by more than 60 percent and reducing maintenance costs over time.
West Richland's new smart-lighting infrastructure also uses Acuity Brands patented ROAM® wireless streetlight monitoring system to remotely monitor, control and measure luminaire performance. ROAM provides a very flexible, smart lighting platform for outdoor installations that allows for multi-level dimming strategies.  Implementing a dimming strategy will allow the city to reduce its lighting energy costs by an additional 10 to 20 percent through scheduled dusk/dawn trimming (turning street lights off) and dimming in residential areas.
"It makes good economic and business sense for the City to install new LED street lights and a wireless control system that reduces energy use by more than 60% while improving illumination, safety and addressing dark sky considerations," said Brent Gerry, Mayor, City of West Richland. "In addition to dramatic energy and maintenance savings, the control system will also enable us to move to a lower cost metered rate schedule that provides further cost reductions."
"The West Richland installation is an example of how cities of all sizes can embrace networked LED lighting to create smarter, brighter, and more energy efficient infrastructure," said Rob Drago, Vice President, Infrastructure, Acuity Brands Lighting. "Beyond cost and energy savings, smart lighting that incorporates LED luminaires, sensors and networked controls will continue to play an important role as cities continue to invest in more sustainable futures."
About Acuity Brands
Acuity Brands, Inc. is a North American market leader and one of the world's leading providers of lighting solutions for both indoor and outdoor applications. With fiscal year 2014 net sales of $2.4 billion, Acuity Brands employs approximately 7,000 associates and is headquartered in Atlanta, Georgia with operations throughout North America, and in Europe and Asia.  The Company's lighting solutions are sold under various brands, including Lithonia Lighting®, Holophane®, Peerless®, Gotham®, Mark Architectural Lighting™, Winona® Lighting, Healthcare Lighting®, Hydrel®, American Electric Lighting®, Carandini®, Antique Street Lamps™, Sunoptics®, RELOC® Wiring Solutions, eldoLED® and Acuity Controls. For more information, visit www.acuitybrands.com​.
#     #     #
Media Contact:
Ketchum
Alex Fencl
alex.fencl@ketchum.com
404.879.9122
CONTACTS
Kelsey Walker

Account Executive

United States

kelsey.walker@ketchum.com

-