Peerless Introduces Round 4 Luminaires Offering Beauty, Brains, Comfort and Choices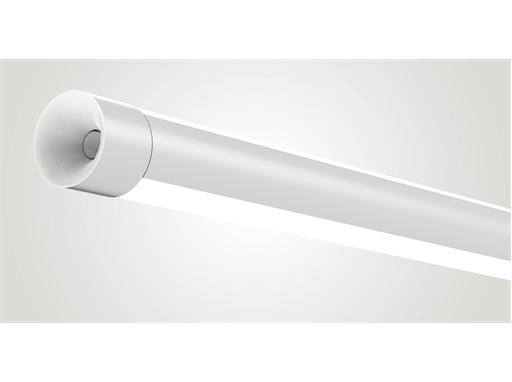 New Suite of LED Luminaires Solves Complex Lighting Challenges with Broad Array of High Performance Optical Packages and Energy-Saving Controls Options
BERKELEY, CA -
Peerless
- a leading designer and manufacturer of architectural luminaires and one of the innovative lighting companies under the
Acuity Brands, Inc.
. (NYSE: AYI) umbrella - announces the release of Round 4, a comprehensive suite of LED luminaires in both suspended and wall-mount models.
Round 4 LED luminaires are engineered to solve the most complex lighting challenges and enable architects, designers and other specifiers to create a cohesive aesthetic throughout their projects using luminaires from one product family. The LED luminaires feature a classic, 4" cylindrical form; energy-saving control and sensor options; comfortable, glare-free illumination; and a wide variety of distribution and lumen packages.
Round 4 luminaires have been designed with several carefully considered design elements including continuous glowing lenses that extend across the length of the housings, unique "L" pattern connectors that provide seamless corner illumination when two or more luminaires are joined together and sculptural end caps constructed from die-cast aluminum.
To help save energy, Round 4 luminaires feature a 0 to 10V eldoLED® driver that is fully dimmable to black and the option to include an embedded sensor for daylight dimming and occupancy detection control.
To boost efficiency further, Round 4 luminaires can also be specified with
nLight®
digital controls to provide network controls connectivity, energy-saving digital lumen management or both. In the suspended models, an optional built-in nLight module allows for easy Cat-5 "plug-and-play" connectivity with nLight control and sensor systems. For wall models, a standalone nLight module can be ordered from
Sensor Switch®
to install above ceilings. The digital lumen management option provides constant lumen output, extends LED longevity and saves roughly 10 percent in energy use over the lifetime of the luminaire.
Designed to direct and diffuse light following the proprietary Softshine® engineering standards from Peerless, Round 4 luminaires exemplify the Peerless mantra of Lighting for People® by emitting soft, uniform and glare-free illumination. Moreover, many of the available optical packages meet the guidelines set forth in the Illuminating Engineering Society's (IES) Recommend Practice for Office Lighting (RP-1).
"The Peerless Softshine process scientifically shapes the light output from our luminaires to provide best-in-class distribution and performance," says Peerless Value Stream Manager and lead product developer Kai Jaffe. "In the case of the Round 4 LED luminaires, carefully designed injection-molded optics produce indirect illumination that is flat and broad across the ceiling in batwing distributions with no hot spots and direct illumination that cuts off high-angle glare."
Round 4 luminaires are available with delivered-lumen packages ranging from 2600 to 6000, three LED color temperature options and with direct, indirect and a several indirect/direct distributions. The suite also offers several models with specialized optics.
Round 4 Stairway wall-mount luminaires are embedded with an occupancy detection sensor pre-programmed to remain at either 10 percent or 50 percent illumination when stairways are unoccupied and brighten to 100 percent illumination when occupancy is detected. Round 4 Aisle/Stack suspended luminaires uniformly illuminate vertical surfaces, such as library stacks and grocery shelves, on both sides of an aisle. Round 4 Wall-Wash luminaires illuminate a single vertical plane from a suspended form.
Round 4 luminaires deliver an expected 50,000 hours (12 to 15 years) of illumination to L80. They are also IES LM-79 tested, CSA/CUS listed, FCC certified and feature a Lighting Facts® label issued by the U.S. Department of Energy.
Round 4 luminaires can be used in a wide variety of commercial office, hospitality, healthcare and retail applications in complimentary harmony with the previously introduced Round 2 luminaires that share many of these same attributes.
All Peerless luminaires, including
Round 2
and
Round 4
, are available nationally through Acuity Brands sales representatives and authorized distributors. For additional information, please visit the
Acuity Brands
and
Peerless
websites.
About Peerless
Peerless makes Lighting for People® and the places we all inhabit – offices, classrooms, libraries, retail centers, transportation terminals, convention halls and other public spaces. Since our founding in 1892, the Peerless name has been synonymous with extraordinary illumination. Peerless LED and fluorescent architectural luminaires are among the most advanced in the indoor commercial marketplace delivering leading-edge modern design, superior optical engineering and energy-efficient performance. Peerless is located in Berkeley, CA, and is a business unit of Acuity Brands, Inc.
About Acuity Brands
Acuity Brands, Inc. is a North American market leader and one of the world's leading providers of lighting solutions for both indoor and outdoor applications. With fiscal year 2012 net sales of over $1.9 billion, Acuity Brands employs approximately 6,000 associates and is headquartered in Atlanta, Georgia with operations throughout North America, and in Europe and Asia. The company's lighting solutions are sold under various brands, including Lithonia Lighting®, Holophane®, Peerless®, Gotham®, Mark Architectural Lighting™, Winona®, Healthcare Lighting®, Hydrel®, American Electric Lighting®, Carandini®, Antique Street Lamps™, Tersen®, Sunoptics®, Sensor Switch®, Lighting Control & Design™, Synergy® Lighting Controls, Pathway Connectivity™, Dark to Light®, ROAM®, RELOC® Wiring Solutions, Acculamp® and eldoLED®.
CONTACTS
Neil Egan

Director, Communications

United States

Neil.Egan@acuitybrands.com

770-860-2957