Peerless Expands and Enhances Award-Winning Suite of LED Luminaires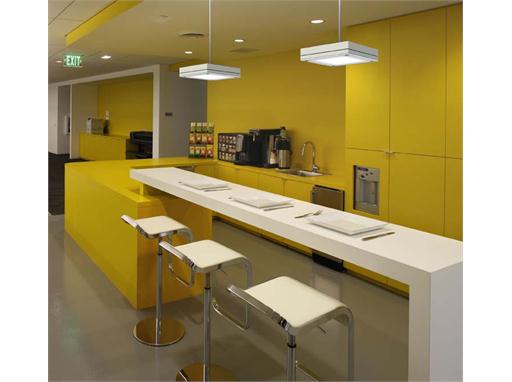 Peerless Mino LED luminaires are now offered in 1' x 4' and 1' x 1' models; energy efficiency increased by up to 15%. 
ATLANTA – Peerless​ — a leading designer and manufacturer of architectural luminaires and one of the innovative lighting brands under the Acuity Brands​, Inc. umbrella – announces the release of an expanded and enhanced line of Peerless® Mino​​ direct ambient LED luminaires.
In addition to the previously released 2' x 2' recessed, surface/wall and pendant models, the Peerless Mino suite now includes a 1' x 4' recessed luminaire and nominal 1' x 1' recessed, surface/wall and pendant models.
The entire product line has been upgraded with a new high-performance, high-transmission lens and is now available in a 3000K warm white color temperature option.
The new lens follows the Peerless proprietary Softshine® optical engineering standards to emit soft, uniform and glare-free that minimizes eyestrain and fatigue. The new lens also contributes to the increased energy efficiency of the luminaire by as much as 15 percent over the previous configuration and enables delivery of up to 108 lumens per watt.
"After being recognized with a 2012 IES Progress Report selection and 2013 Next Generation Luminaires award, Peerless Mino has been a highly specified luminaire," says Peerless Senior Product Manager Jennifer Butler. "With the roll-out of the new sizes, greater efficacy and warm white temperature option, architects and designers now have a more comprehensive and complementary collection of Peerless Mino LED luminaires with which to realize their lighting visions for offices, hotels, universities, healthcare facilities, retail environments or other public spaces."
Inspired in part by modern abstract paintings of the late 20th-century, Peerless Mino LED luminaires embody the same dynamic interplay of positive and negative space found in these works.
When illuminated, subtle gradient shadowing appears along the perimeter of the Peerless Mino luminaire lens surface. As Peerless Mino LED luminaires are viewed from different angles, these sophisticated abstractions shift in appearance adding drama and distinction.
Featuring a dimmable, modular and easily upgradeable LED light engine, Peerless Mino luminaires achieve uniform color consistency within 2.5 MacAdam ellipses while delivering industry-leading L80 performance for 50,000 hours (12 to 15 years for normal use).
Compared to comparable fluorescent troffers, Peerless Mino LED luminaires are roughly 30 percent more efficient delivering up to 108 lumens per watt. In a 60' x 40' open office, for example, Peerless Mino 2' x 2' recessed luminaires spaced 8' x 8' on center generate 42 foot candles on a 2.5-foot work surface, while using only .60 watts per square foot. Commissioning Peerless Mino luminaires may therefore contribute toward a building's LEED certification by helping reduce energy consumption.
Peerless Mino LED luminaires feature nLight® technology for controllability. In the recessed models, an optional built-in nLight module allows for easy Cat-5 "plug-and-play" connectivity with nLight control and sensor systems. For surface, wall and pendant models, a standalone nLight module can be ordered from Sensor Switch​​ to install above ceilings or inside walls. With the nLight module option, digital lumen management can also be specified to maintain constant lumen output, extend the longevity of the LED diodes and achieve additional energy savings of roughly 10 percent over the lifetime of the luminaire.
Peerless Mino LED luminaires are IES LM-79 tested, CSA/CUS listed, FCC certified, DesignLights Consortium™ qualified and feature a Lighting Facts® label issued by the U.S. Department of Energy.                                                                                             
All Peerless​​ luminaires, including Peerless Mino​​, are available nationally through Acuity Brands sales representatives and authorized distributors. For additional information, please visit the Acuity Brands​​ at www.acuitybrands.com or Peerless​ at www.peerlesslighting.com.
About Acuity Brands
Acuity Brands, Inc. is a North American market leader and one of the world's leading providers of lighting solutions for both indoor and outdoor applications. With fiscal year 2012 net sales of over $1.9 billion, Acuity Brands employs approximately 6,000 associates and is headquartered in Atlanta, Georgia with operations throughout North America, and in Europe and Asia. The company's lighting solutions are sold under various brands, including Lithonia Lighting®, Holophane®, Peerless®, Gotham®, Mark Architectural Lighting™, Winona® Lighting, Healthcare Lighting®, Hydrel®, American Electric Lighting®, Carandini®, Antique Street Lamps™, Tersen®, Sunoptics®, Sensor Switch®, Lighting Control & Design™, Synergy® Lighting Controls, Pathway Connectivity™, Dark to Light®, ROAM®, RELOC® Wiring Solutions, Acculamp® and eldoLED®.
About Peerless
Peerless makes Lighting for People® and the places we all inhabit – offices, classrooms, libraries, retail centers, transportation terminals, convention halls and other public spaces. Since our founding in 1892, the Peerless name has been synonymous with extraordinary illumination. Peerless LED and fluorescent architectural luminaires are among the most advanced in the indoor commercial marketplace delivering leading-edge modern design, superior optical engineering and energy-efficient performance. Peerless is located in Berkeley, CA, and is a business unit of Acuity Brands, Inc.  
CONTACTS
Neil Egan

Director, Communications

United States

Neil.Egan@acuitybrands.com

770-860-2957