Pathway Connectivity Partners with World-Renowned Design College to Help Advance Student's Lighting Design Skills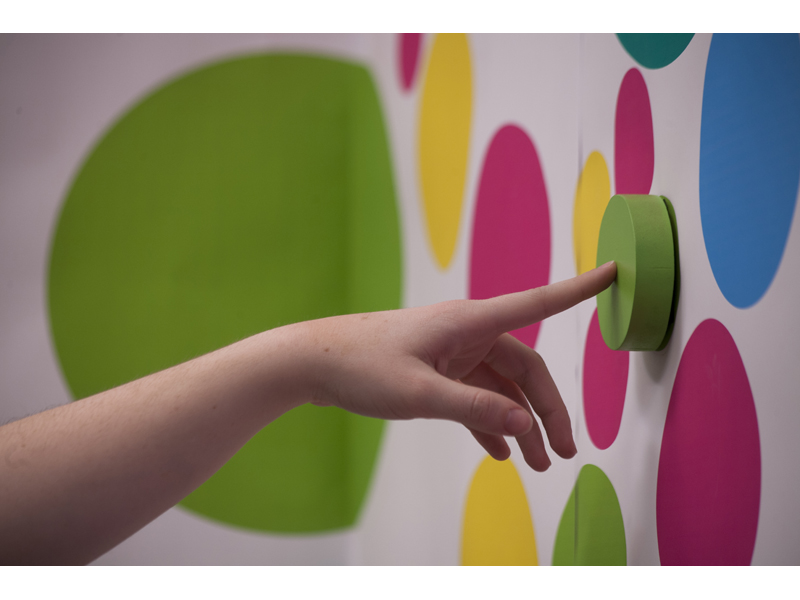 Pathway Connectivity™ and Parsons The New School for Design - one of the most prestigious art and design universities in the world - established a partnership to advance students' appreciation for the role lighting can play in design. Pathway donated the use of a Cognito™ lighting console and provided technical support to help the students build an interactive lighting installation. The installation will be featured at lighting, architectural and technology events across the globe.
"The Cognito lighting console is a great tool for the project," said Mike Hawkins, a Parsons student who collaborated on the project. "It allows us to program light shows that flash on cue between two color temperatures. This helps demonstrate how our perception of color changes under different color temperatures of white light. We received extremely valuable assistance from the team at Pathway during the set up, and that support was critical to our success."
The project goal was to allow viewers the opportunity to better understand the creative and technical potential of how lighting and lighting design can shape perception and experience. The students created the installation "Spot the Change" to demonstrate human variable perception of object color under white light.
The installation features interactive arcade buttons visitors can press to initiate light changes specifically calibrated to the colors of the immersive environment. The Cognito console allowed the students to program MIDI input, triggered by a visitor's actions, to initiate sequences where - for example - pink and red spots appear to be the same color in one lighting condition but look different under another.
"We were very impressed with what the students at Parsons were able to achieve with our lighting control technology," said Dave Higgins, VP and Value Stream Leader for Pathway Connectivity. "They delved deep into the features of the console, including the console's remote triggering capabilities, to create a highly innovative installation. New lighting technologies will have a profound impact on design, and Pathway is honored to help these students explore those developments."
Cognito is a feature-rich lighting controller that utilizes 'natural language control' to simplify the complex task of integrating incandescent dimmers, moving lights and color changing LED fixtures within a single show, including the ability to coordinate not only color changes but also color temperature between differing sources. 
Spot the Change was unveiled at 2014 Light + Building conference in Germany March 30 - April 4.
For more information on the Cognito lighting console, visit www.pathwayconnect.com.​ Pathway Connectivity is a division of Acuity Brands Lighting, Inc.
About Acuity Brands
Acuity Brands, Inc. is a North American market leader and one of the world's leading providers of lighting solutions for both indoor and outdoor applications. With fiscal year 2013 net sales of over $2 billion, Acuity Brands employs approximately 6,500 associates and is headquartered in Atlanta, Georgia with operations throughout North America, and in Europe and Asia. The Company's lighting solutions are sold under various brands, including Lithonia Lighting®, Holophane®, Peerless®, Gotham®, Mark Architectural Lighting™, Winona® Lighting, Healthcare Lighting®, Hydrel®, American Electric Lighting®, Carandini®, Antique Street Lamps™, Sunoptics®, Axion™ Controls, Sensor Switch®, Lighting Control & Design™, Synergy® Lighting Controls, Pathway Connectivity™, Dark to Light®, ROAM®, RELOC® Wiring Solutions, Acculamp® and eldoLED®.
Parsons The New School for Design
Parsons The New School for Design is one of the leading institutions for art and design education in the world. Based in New York but active around the world, the school offers undergraduate and graduate programs in the full spectrum of art and design disciplines. Critical thinking and collaboration are at the heart of a Parsons education. Parsons graduates are leaders in their respective fields, with a shared commitment to creatively and critically addressing the complexities of life in the 21st century.
# # #
CONTACTS
Neil Egan

Director, Communications

United States

Neil.Egan@acuitybrands.com

770-860-2957