North Carolina School District Refreshes Gymnasium with LED Lighting from Acuity Brands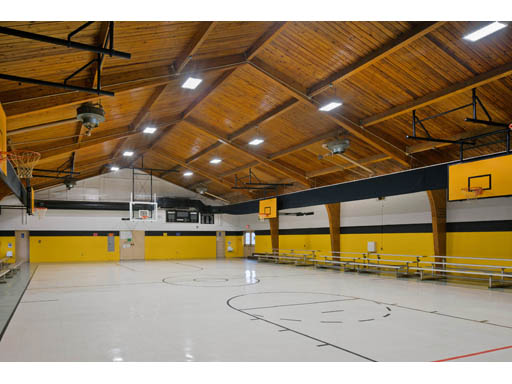 Surry County School District (N.C.) improves gymnasium lighting quality and saves money with new energy-efficient LED luminaires from Acuity Brands.
Surry County School District (N.C.) projects annual savings of nearly $1,350 with new Lithonia Lighting​® IBH low bay LED luminaires​ from Acuity Brands, Inc.​ Ten IBH low bay LED luminaires improved foot-candle levels in Dobson Elementary School's 5,400 square-foot gymnasium by more than 50 percent. The conversion from metal halide fixtures is part of Surry County School District's energy education program.
"We continually strive to improve energy conservation – especially to save money for the schools," said Robert Draughn, Surry County School District Director of Plant Operations. "This was the main driver for working on a lighting project as one of multiple district-wide energy-saving projects."
Because the metal halide fixtures require a significant amount of time to achieve full illumination, the school allowed the lights to remain on throughout the entire day, even when the gym was not in use. However, the new Lithonia Lighting LED fixtures instantly illuminate when switched on, enabling the school to easily turn lights off and reduce energy consumption when the gym is unoccupied.
Installation of the new IBH LED luminaires was completed in three days. "It was very quick and easy to make the transition from metal halide to LED," said Draughn. Because they were able to successfully complete the project in time for the 2013-2014 school year, the Surry County School District plans to adopt LED lighting in nine additional elementary, middle and high schools.
IBH low bay LED luminaires​ are designed to save as much as 50 percent of energy compared to traditional metal halide fixtures. Ideal for light industrial and commercial applications, the luminaires have an expected service life of more than 50,000 hours.
For more information about IBH low bay LED luminaires, please visit www.lithonia.com​ or www.acuitybrands.com​.
About Acuity Brands
Acuity Brands, Inc. is a North American market leader and one of the world's leading providers of lighting solutions for both indoor and outdoor applications. With fiscal year 2013 net sales of over $2 billion, Acuity Brands employs approximately 6,500 associates and is headquartered in Atlanta, Georgia with operations throughout North America, and in Europe and Asia.  The Company's lighting solutions are sold under various brands, including Lithonia Lighting®, Holophane®, Peerless®, Gotham®, Mark Architectural Lighting™, Winona® Lighting, Healthcare Lighting®, Hydrel®, American Electric Lighting®, Carandini®, Antique Street Lamps™, Sunoptics®, Axion™ Controls, Sensor Switch®, Lighting Control & Design™, Synergy® Lighting Controls, Pathway Connectivity™, Dark to Light®, ROAM®, RELOC® Wiring Solutions, Acculamp® and eldoLED®.
CONTACTS
Neil Egan

Director, Communications

United States

Neil.Egan@acuitybrands.com

770-860-2957