New Versatile LDN Series LED Luminaires from Lithonia Lighting Redefine Affordable Downlighting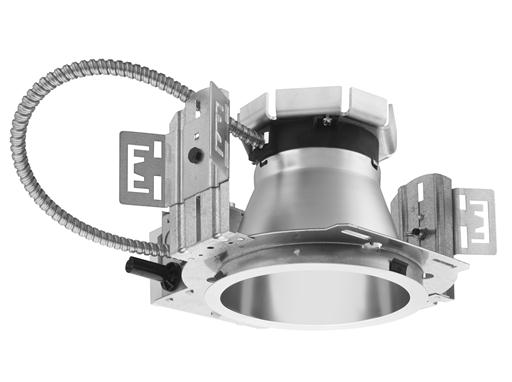 Acuity Brands, Inc.​ introduces the LDN 6-inch LED downlight​ from Lithonia Lighting®​​​ that is designed to provide high-quality general illumination architectural downlighting at an affordable price. The new downlights deliver specification grade features ideal for a variety of indoor environments such as office, education, retail, restaurant, healthcare, hospitality and government facilities.
LDN Series downlights use a unique mixing chamber design to ensure uniform light output without pixilation, and an attractive shielding angle to create a quiet, glare-free ceiling. The LDN Series delivers lumen packages from 600L to 2000L and ideal 1.0 spacing for general illumination. An advanced LED driver enables dimming of the fixture to 10 percent of initial output. Multiple trim colors and finishes, as well as open and wall wash styles provide variations for décor preferences.
"The use of LED technology in downlighting is quickly progressing and, in turn, specifiers are searching for more efficient and versatile illumination options," said Michael Eckert, Lithonia Lighting Value Stream Manager, Commercial Downlighting. "We listened and created a downlight that delivers a remarkable number of features, contributing to its outstanding value, including smooth dimming, multiple styles and configurations, and quality, glare-free illumination."
The LDN Series LED downlight has a CRI of more than 80 and is available in four color temperatures: 2700K, 3000K, 3500K and 4000K. It features an expected service life of 50,000 hours at 70 percent lumen maintenance. The downlights can be equipped with nLight®​​ technology from Acuity Controls to further reduce energy consumption and enable seamless control.
For additional information about the LDN Series 6-inch LED downlight, please visit http://lithonia.acuitybrands.com/LDN​.
About Acuity Brands
Acuity Brands, Inc. is a North American market leader and one of the world's leading providers of lighting solutions for both indoor and outdoor applications. With fiscal year 2013 net sales of over $2 billion, Acuity Brands employs approximately 6,500 associates and is headquartered in Atlanta, Georgia with operations throughout North America, and in Europe and Asia.  The Company's lighting solutions are sold under various brands, including Lithonia Lighting®​, Holophane®​, Peerless®​, Gotham®​, Mark Architectural Lighting™, Winona® Lighting, Healthcare Lighting®​, Hydrel®​, American Electric Lighting®​, Carandini®​, Antique Street Lamps™, Sunoptics®​, Sensor Switch®​, Lighting Control & Design™, Synergy®​ Lighting Controls, Pathway Connectivity Solutions®​, Dark to Light®​, ROAM®​, RELOC®​ Wiring Solutions, Acculamp®​ and eldoLED®​.
CONTACTS
Neil Egan

Director, Communications

United States

Neil.Egan@acuitybrands.com

770-860-2957