New Mongoose LED Luminaires from Acuity Brands Lower Operating Costs, Boost Visibility for High-Speed Roadways, Area Lighting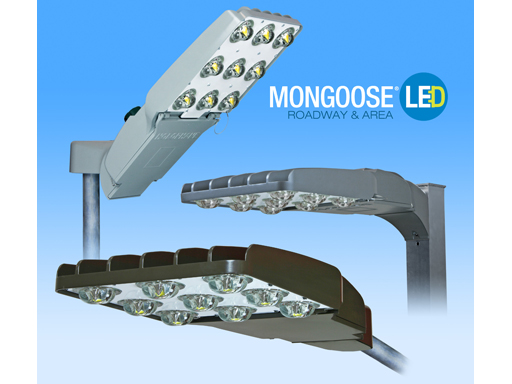 Fixtures are designed for reliability, long-term performance
Acuity Brands, Inc​. introduces technologically advanced Mongoose® LED Roadway and Area Lighting luminaires​ from Holophane® . The new LED luminaires significantly reduce energy and maintenance costs while providing a bright white light for improved visibility. The fixtures, named a 2013 IES Progress Report Selection, reduce energy expenses and CO2 emissions by up to 60 percent, and maintenance costs by more than 50 percent for new and retrofit applications.
Mongoose LED luminaires are available in a range of lumen packages, supplying 15,000 to 36,000 lumens to replace 150- to 400-watt high pressure sodium and 175- to 1,000-watt metal halide systems. The fixtures are available with a variety of distribution options to offer solutions for environments such as high-speed roadways and interstates to parking lots, industrial parks and college campuses.
Low and high tilt capability facilitates set back installation and eliminates the need for a mast arm and poles with frangible bases. Offsetting the fixtures from the roadway also means highway lanes may remain open during installation and maintenance.
Other luminaire features and benefits include the following:
IP rated borosilicate glass optics for permanence, uniformity, glare control and increased pole spacing;
Rugged A360 low copper die cast aluminum housing and enhanced corrosion resistant finish rated for more than 5,000 hours of exposure to salt spray;
4,000K and 5,000K correlated color temperature (CCT) with minimum 70 color rendering index (CRI)
Three mounting options, including horizontal mast arm, architectural arm and vertical tenon;
Optional uplight skirt ensures no light above 90º
Stainless steel latches and removable power door for tool-less access and utility-friendly maintenance.
Robust control options include an integrated NEMA photo control receptacle and ROAM® wireless monitoring​ control capability.
Mongoose LED luminaire light engines are rated for greater than L70 at 100,000 hours. Driver life is rated at 100,000 at 25ºC. The fixtures are CSA Certified to U.S. and Canadian standards  at 40ºC.
"Extremely long service life is key to the value of any lighting fixture," said Scott Posey, Holophane Value Stream Manager, Roadway. "Mongoose LED luminaires are designed for reliability and long-term performance for a lower total cost of ownership."
For more information about new Mongoose LED luminaires or any of the Holophane line of roadway and area lighting solutions, visit www.holophane.com​ or call 1-800-759-1577.
About Acuity Brands
Acuity Brands, Inc. is a North American market leader and one of the world's leading providers of lighting solutions for both indoor and outdoor applications. With fiscal year 2013 net sales of over $2 billion, Acuity Brands employs approximately 6,500 associates and is headquartered in Atlanta, Georgia with operations throughout North America, and in Europe and Asia.  The Company's lighting solutions are sold under various brands, including Lithonia Lighting®, Holophane®, Peerless®, Gotham®, Mark Architectural Lighting™, Winona® Lighting, Healthcare Lighting®, Hydrel®, American Electric Lighting®, Carandini®, Antique Street Lamps™, Sunoptics®, Axion™ Controls, Sensor Switch®, Lighting Control & Design™, Synergy® Lighting Controls, Pathway Connectivity™, Dark to Light®, ROAM®, RELOC® Wiring Solutions, Acculamp® and eldoLED®.
About Holophane
Headquartered in Granville, Holophane has been the leader in lighting solutions for 110 years. A division of Acuity Brands, Holophane provides energy efficient lighting systems for a range of commercial, industrial and outdoor applications. Visit www.holophane.com​ to experience lighting's best.
###
CONTACTS
Neil Egan

Director, Communications

United States

Neil.Egan@acuitybrands.com

770-860-2957