New Lithonia Lighting LED Flush Mount Solutions Bring Versatility and Advanced Technology to Residential and Light Commercial Applications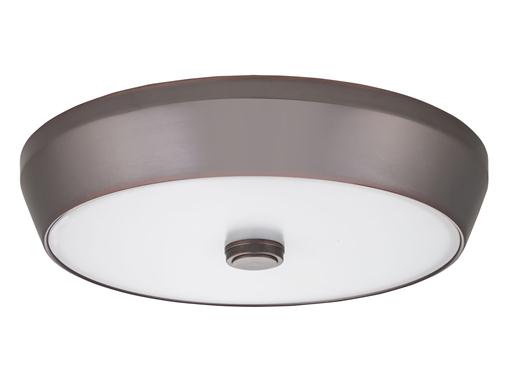 Acuity Brands, Inc.​ expands its decorative indoor lighting portfolio with seven new LED flush mount lighting solutions from Lithonia Lighting®​​. Inspired by the classic designs of the original flush mount series, the new generation of Lithonia Lighting fixtures combine LED technology and a low-profile to deliver style, performance and value.
The new LED flush mount fixtures are ideal for closets, kitchens, laundry rooms, corridors and a wide range of light commercial and residential applications, including multi-family residencies, hotels and assisted-living facilities.  
The seven new additions to the LED flush mount series are commercial-rated for 24-hour operation. They feature AC-driven LED boards with zero inrush to enable instant "on", and are dimmable down to 10 percent. Providing as much as 50,000 hours of illumination, these high-performance LED fixtures offer exceptional energy savings for a speedy and meaningful return on investment.
Ryan Ramaker, Lithonia Lighting Senior Value Stream Manager, Decorative Indoor, explains that like the popular LED Versi Lite™ from Lithonia Lighting, these new integrated LED flush mount fixtures provide energy-efficient illumination while virtually eliminating routine maintenance and the costs of replacement bulbs. "Our latest LED flush mount solutions are especially appealing for facility managers and contractors working on residential and light commercial projects because they are easy to install, complementary of the space and virtually maintenance-free."
For more information about Lithonia Lighting products, please visit www.lithonia.com​ or www.acuitybrands.com​.
About Acuity Brands
Acuity Brands, Inc. is a North American market leader and one of the world's leading providers of lighting solutions for both indoor and outdoor applications. With fiscal year 2013 net sales of over $2 billion, Acuity Brands employs approximately 6,500 associates and is headquartered in Atlanta, Georgia with operations throughout North America, and in Europe and Asia.  The Company's lighting solutions are sold under various brands, including Lithonia Lighting®​, Holophane®​, Peerless®​, Gotham®​, Mark Architectural Lighting™, Winona®​ Lighting, Healthcare Lighting®​, Hydrel®​, American Electric Lighting®​, Carandini®​, Antique Street Lamps™, Sunoptics®​, Axion™ Controls, Sensor Switch®​, Lighting Control & Design™, Synergy®​ Lighting Controls, Pathway Connectivity Solutions®​, Dark to Light®​, ROAM®​, RELOC®​ Wiring Solutions, Acculamp®​ and eldoLED®​.
CONTACTS
Neil Egan

Director, Communications

United States

Neil.Egan@acuitybrands.com

770-860-2957