New Acuity Brands Lighting Installation in Las Vegas Convention Center Offers LIGHTFAIR Visitors a Glimpse of its Products in Practice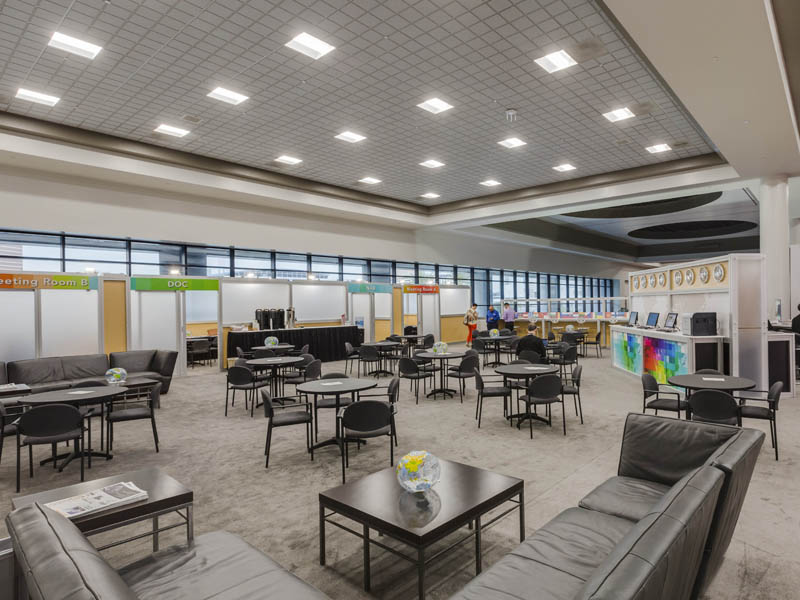 For LIGHTFAIR® International​ 2014 (LFI) attendees, the Las Vegas Convention Center​ (LVCC) will serve as testament to innovative lighting solutions from Acuity Brands, Inc.​Most recently, the 3.2 million square-foot LVCC selected the company's VT Series LED luminaries​ from Lithonia Lighting® to illuminate its administrative building, public corridors and concourse areas to improve the quality of lighting and reduce maintenance costs.
"As one of the largest convention centers in the world, the LVCC required a lighting solution that would significantly reduce energy and maintenance costs," said Angie McClure, Principal at Nevada Lighting. "We were looking for a fixture that would increase the quality of lighting and achieve energy savings; and for this particular project, the VT Series LED luminaire was the clear choice."
LVCC has installed VT Series LED luminaires in its administrative building and is gradually upgrading to the new LED fixtures throughout the corridors and concourse areas as compact fluorescent lamps in existing downlights reach the end of their effective life. Initial plans are to install more than 500 new VT Series LED luminaires, which are expected to achieve 70 percent in energy savings and a visually enhanced appearance.
"The VT Series LED luminaires have proven to be a spot-on recommendation so far, and I am very pleased with the installation," said Joe Toro, Las Vegas Convention Center Electrician Supervisor. "They are stylish and deliver high quality illumination to really enhance the colors and décor of our facility."
This is the second time the convention center has selected Acuity Brands lighting solutions to improve illumination in its spaces and reduce energy consumption. In 2013, after testing numerous fixtures from other manufacturers, LVCC selected DualBay high bay luminaires​ from Holophane® to improve color quality and foot candle levels on the exhibit hall floors.
"With over a year of testing behind us, the high bay luminaire installation has resulted in annual energy savings for us of over $435,000," said Toro. "Initial light levels in the exhibit halls increased to as high as 80 to 110 foot candles, surpassing the convention center's minimum maintained requirement of 60 foot candles. The Holophane DualBay fixtures with ceramic metal halide lamps have received significant positive feedback from staff and from our exhibitors at the LVCC."    
Throughout the duration of the show, LFI attendees can experience spaces illuminated by both VT Series LED luminaires and DualBay high bay luminaires. Attendees are also encouraged to visit the Acuity Brands booth (#3808) to learn about additional lighting, controls and daylighting solutions from the North American market leader in lighting solutions. To learn more about Acuity Brands, please visit www.acuitybrands.com. 
About Acuity Brands
Acuity Brands, Inc. is a North American market leader and one of the world's leading providers of lighting solutions for both indoor and outdoor applications. With fiscal year 2013 net sales of over $2 billion, Acuity Brands employs approximately 6,500 associates and is headquartered in Atlanta, Georgia with operations throughout North America, and in Europe and Asia. The Company's lighting solutions are sold under various brands, including Lithonia Lighting®, Holophane®, Peerless®, Gotham®, Mark Architectural Lighting™, Winona® Lighting, Healthcare Lighting®, Hydrel®, American Electric Lighting®, Carandini®, Antique Street Lamps™, Sunoptics®, Axion™ Controls, Sensor Switch®, Lighting Control & Design™, Synergy® Lighting Controls, Pathway Connectivity Solutions®, Dark to Light®, ROAM®, RELOC® Wiring Solutions, Acculamp® and eldoLED®.
CONTACTS
Neil Egan

Director, Communications

United States

Neil.Egan@acuitybrands.com

770-860-2957