New Acuity Brands BR LED Lamps Deliver Warm Illumination, Long Life and Energy Savings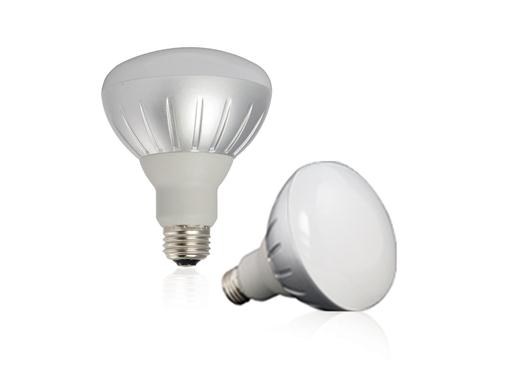 Acuity Brands, Inc.
​ (NYSE: AYI) expands the
Acculamp®
​ economy grade series to include BR LED lamps – BR20, BR30 and the voluminous BR40. All three BR LED lamps deliver the warm illumination traditionally associated with incandescent BR lamps, while using 83 percent less energy and delivering an expected service life of more than 45 years*. Additionally, BR LED lamps resemble the physical look of incandescent bulbs.
"New BR LED lamps provide an energy-efficient solution that maintains the warm light output from traditional sources," said Seth Owen, Acuity Brands Lighting Vice President, LED Lamps and Track Lighting. "The smooth exterior and reflector design eliminates visibility of the LEDs and the affordable price allows customers to seamlessly upgrade from incandescent lamps." 
The BR20, BR30 and BR40 lamps replace 50, 75 and 100-watt lamps, while only using 8, 12 and 17-watts respectively. They are available in lumen packages of 500, 850 and 1045, and are dimmable down to 10 percent.
Acculamp develops a comprehensive assortment of LED-based lamps for specification-grade and economy-grade performance in an unobtrusive design. Acculamp LED lamps are ideal for track, recessed and accent lighting use in both residential and commercial applications. The lamps are backed by a five-year limited warranty.
For more information on the latest in LED lamps, visit www.acculamp.com​ or www.acuitybrands.com​.
*Based on average use of 3 hours per day for 365 consecutive days.
About Acuity Brands
Acuity Brands, Inc. is a North American market leader and one of the world's leading providers of lighting solutions for both indoor and outdoor applications. With fiscal year 2012 net sales of over $1.9 billion, Acuity Brands employs approximately 6,000 associates and is headquartered in Atlanta, Georgia with operations throughout North America, and in Europe and Asia. The company's lighting solutions are sold under various brands, including Lithonia Lighting®, Holophane®, Peerless®, Gotham®, Mark Architectural Lighting™, Winona®, Healthcare Lighting®, Hydrel®, American Electric Lighting®, Carandini®, Antique Street Lamps™, Tersen®, Sunoptics®, Sensor Switch®, Lighting Control & Design™, Synergy® Lighting Controls, Pathway Connectivity™, Dark to Light®, ROAM®, RELOC® Wiring Solutions, and Acculamp®.
#     #     #
CONTACTS
Neil Egan

Director, Communications

United States

Neil.Egan@acuitybrands.com

770-860-2957