MaineDOT Selects New Holophane High Mast LED Outdoor Lighting from Acuity Brands for Retrofit Project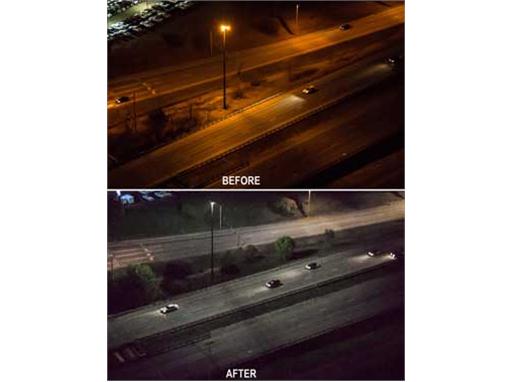 New LED lighting along Maine's Interstate 295 will improve roadway lighting and reduce energy costs.
The Maine Department of Transportation​ (MaineDOT) selected Holophane®​ HMAO™ LED high mast outdoor lighting fixtures from Acuity Brands, Inc. (NYSE: AYI) to retrofit 105 light towers that illuminate Interstate 295. The new HMAO LED high mast solution provides two distinct benefits for the MaineDOT: evenly distributed white light for enhanced illumination and greater energy efficiency compared to the previous lighting technology.
HMAO LED high masts use only 290-watts per fixture, and are rated to deliver up to 100,000 hours of maintenance-free operation. They feature multiple LED modules that reduce the potential for dark areas in the event an LED module fails. Through use of multiple LED drivers, HMAO LED high masts offer the choice of various lumen packages, provide a back-up light source and overlapping distribution. Additionally, prismatic glass optics minimize the direct view of the light source for quality illumination.
"Our main goal is to provide a safe transportation system for the state of Maine," said Ron Cote, MaineDOT Electrical Supervisor. "We were looking for a light source that would provide lower maintenance and a whiter light. The benefits of multiple LED drivers and modules and the longevity of Holophane HMAO LED fixtures are exactly what we wanted. Additionally, the quality of light combined with the payback of these fixtures is absolutely incredible."
The state's previous high-pressure sodium light fixtures were turned off each night from 11 p.m. to 6 a.m. in order to reduce operating costs, which left roads and rest areas dark during that time period. In addition, the previous fixtures left bright spots and glare on the road due to uneven light distribution.
Electricity cost for each newly retrofitted light tower, operating from dusk to dawn each day, is only $66 per month, compared to $200 per month for each tower using the previous fixtures and operating a reduced number of hours. The reduction in energy cost allows MaineDOT to leave the lights on throughout the night, providing a safer transit environment. Once the retrofit project is completed, the HMAO LED high masts are expected to produce an annual energy savings for the MaineDOT of $135,000, or a 10-year energy savings of approximately $1.35 million.
Light towers in the Falmouth area have already been retrofitted with the new HMAO LED high mast luminaires. The MaineDOT will also retrofit light towers in Portland, Saco, Kittery, Waterville, Bangor and Medway rest areas.
"More than 40 years ago, Holophane was first to market with innovative, high mast lighting systems," said Rob Drago, Acuity Brands Lighting Vice President, Infrastructure. "As an established leader in the industry, we continue to advance the technology, creating a best in class product that provides the features and benefits of a true high mast luminaire."
For more information about HMAO LED high mast fixtures from Holophane, please visit www.holophane.com​ or www.acuitybrands.com​.
CONTACTS
Neil Egan

Director, Communications

United States

Neil.Egan@acuitybrands.com

770-860-2957