Luxury Condos Achieve Energy Saving & Aesthetic Goals with LED Lamps from Acuity Brands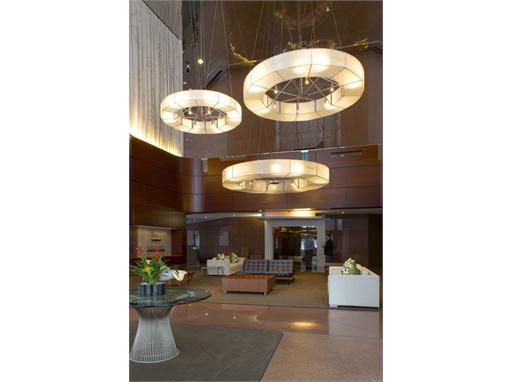 Los Angeles-based 1100 Wilshire projects annual energy savings of $17,000 through the installation of more than 700 Acculamp LED lamps.
1100 Wilshire, a 38-story luxury condo high-rise in downtown Los Angeles, installed more than 700 Acculamp® ALSMR16 LED lamps from Acuity Brands to reduce energy and maintenance costs, while still achieving the same look and feel as the original incandescent lamps. Acculamp ALSMR16 LED lamps are ideal for indoor lighting applications where color, extended lamp life and efficacy are critical.
"The space looked the same, and I could not see the individual diodes from the LEDs, which was very significant," said Gregg Evangelho, building manager at 1100 Wilshire for Action Property Management. "The LED lamps looked like a traditional source, but provided the energy savings we needed. Additionally, installation was incredibly easy, and we were thrilled to use our internal maintenance staff. It really was as simple as changing a light bulb."
1100 Wilshire reduced wattage from 50-watts to 6-watts by installing the LED lamps. It anticipates approximately $17,000 in annual energy savings.
"The installation at 1100 Wilshire embodies the Acculamp promise of 'look, performance, and confidence, and exceeded 1100 Wilshire's criteria for the indoor lighting renovation," said Seth Owen, Acuity Brands Lighting Vice President, LED Lamps and Track Lighting. "The LED lamps contributed to overall building efficiency, while providing a quick return on investment."