Lithonia Lighting LED Floodlights from Acuity Brands Illuminate 115-Year-Old Castle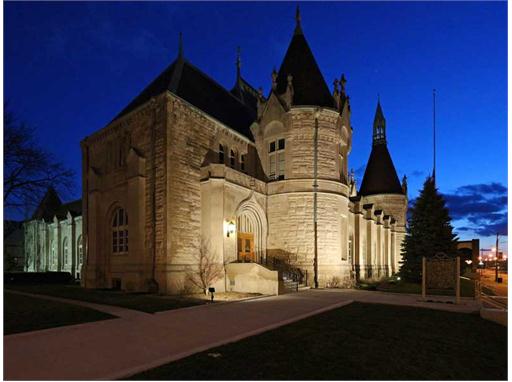 The historic Castle Museum in Michigan brings its French Revival style architecture to life with Lithonia Lighting D-Series LED floodlights for less than one dollar per night.
The Castle Museum in Saginaw, Michigan is now illuminated with 19
Lithonia Lighting
®
D-Series LED Flood Luminaires
from
Acuity Brands Inc
. The museum partnered with Saginaw Sees the Light, a local organization devoted to illuminating Saginaw's architectural treasures, to showcase the facility's historic architecture.
The newly installed LED floodlights give the 40,000-square-foot facility a definitive nighttime presence at a fraction of the cost of traditional sources. Using only 41 watts per fixture, the Saginaw Museum can now be illuminated for less than one dollar per night.
"The building's 19 new LED floodlights consume less than 780 watts," said Brad Dobbs, Lithonia Lighting Value Stream Manager. "The energy savings are incredible with the D-Series floodlight. Additionally, without lamps to change, the floodlights maximize maintenance savings."
"The fixtures are perfect because they are barely noticeable, and the real true spotlight is on the architectural features of the building," said Ken Santa, Castle Museum President and Chief Executive Officer. "We were thrilled beyond belief. The lighting significantly enhances the historic architecture and makes it possible to enjoy it 24-hours a day."
D-Series LED flood luminaires are sleek and stylish and distribute light to a target area using a choice of seven different optics. While the D-Series LED Flood Luminaire, Size 1, was used for this application, Lithonia Lighting has two larger sizes of the D-Series LED floodlights that deliver up to 12,500 lumens.
D-Series LED Flood Luminaire, Size 1, delivers up to 3,675 lumens and has an expected service life of more than 20 years. The floodlights offer energy savings of approximately 80 percent versus comparable metal halide luminaries.
For more information about Lithonia Lighting, please visit
www.lithonia.com
or
www.acuitybrands.com
.
About Acuity Brands
Acuity Brands, Inc. is a North American market leader and one of the world's leading providers of lighting solutions for both indoor and outdoor applications. With fiscal year 2012 net sales of over $1.9 billion, Acuity Brands employs approximately 6,000 associates and is headquartered in Atlanta, Georgia with operations throughout North America, and in Europe and Asia. The company's lighting solutions are sold under various brands, including Lithonia Lighting®, Holophane®, Peerless®, Gotham®, Mark Architectural Lighting™, Winona® Lighting, Healthcare Lighting®, Hydrel®, American Electric Lighting®, Carandini®, Antique Street Lamps™, Tersen®, Sunoptics®, Sensor Switch®, Lighting Control & Design™, Synergy® Lighting Controls, Pathway Connectivity™, Dark to Light®, ROAM®, RELOC® Wiring Solutions, Acculamp® and eldoLED®.
About Castle Museum
The Castle Museum of Saginaw County History celebrates the continuing story of the people of the Saginaw region through exploration, preservation and presentation of their historical and cultural heritage. The building was originally constructed in 1898 as a post office. Today, the Castle Museum's French Renaissance Revival architecture is a unique attraction. The museum preserves more than 100,000 objects and artifacts related to the historical, cultural and archaeological heritage of the Saginaw area.
CONTACTS
Neil Egan

Director, Communications

United States

Neil.Egan@acuitybrands.com

770-860-2957