Lithonia Lighting Honored For Innovative Outdoor LED Lighting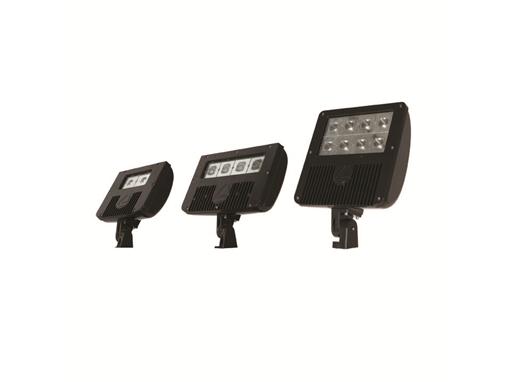 Lithonia Lighting was recently honored with a "Recognized" distinction in outdoor LED lighting by The Next Generation Luminaires™ (NGL) Solid State Lighting (SSL) Design Competition. The Lithonia Lighting® D-Series LED Floodlight, Sizes 1 and 3, from Acuity Brands Inc. were commended by competition judges for color quality, distribution and glare control. They were distinguished as one of the top 40 innovative, energy-efficient products that demonstrate high quality lighting.
"We are excited to be recognized by NGL judges for the D-Series LED Floodlights, said Brad Dobbs, Lithonia Lighting Value Stream Manager. "Our D-Series LED Floodlights combine high-efficiency LEDs and precision-engineered optics to deliver precise on-target distributions, incredibly powerful lumen packages and remarkable energy savings."
The D-Series family of floodlights features seven precision optical distributions, and are available in 3000K, 4000K and 5000K CCT's. Featuring a compact dayform, the D-Series LED Flood luminaires blend seamlessly with the environment and create a dramatic impact with minimal presence. The D-Series LED Floodlight, Size 1 is designed for landscape, signage and accent lighting for commercial and municipal applications. The powerful D-Series LED Floodlight, Size 3 is engineered for wallwash, security and general area lighting. Delivering between 3,675 to 13,750 lumens, D-Series floodlights have an expected service life of more than 100,000 hours, or more than 20 years of nighttime use. They also maintain up to 84 percent of initial LED lumens throughout the product's life.
Sponsored by the U.S. Department of Energy (DOE), the Illuminating Engineering Society of North America (IESNA) and the International Association of Lighting Designers (IALD), NGL SSL Design Competition launched in 2008 to promote excellence in the design of energy-efficient LED luminaires for general illumination in commercial lighting applications.
For more information about Lithonia Lighting and Acuity Brands, please visit www.lithonia.com or www.acuitybrands.com.
About Acuity Brands
Acuity Brands, Inc. is a North American market leader and one of the world's leading providers of lighting solutions for both indoor and outdoor applications. With fiscal year 2012 net sales of over $1.9 billion, Acuity Brands employs approximately 6,000 associates and is headquartered in Atlanta, Georgia with operations throughout North America, and in Europe and Asia. The company's lighting solutions are sold under various brands, including Lithonia Lighting®, Holophane®, Peerless®, Gotham®, Mark Architectural Lighting™, Winona® Lighting, Healthcare Lighting®, Hydrel®, American Electric Lighting®, Carandini®, Antique Street Lamps™, Tersen®, Sunoptics®, Sensor Switch®, Lighting Control & Design™, Synergy® Lighting Controls, Pathway Connectivity™, Dark to Light®, ROAM®, RELOC® Wiring Solutions, Acculamp® and eldoLED®.
CONTACTS
Neil Egan

Director, Communications

United States

Neil.Egan@acuitybrands.com

770-860-2957