Holophane HMAO™ LED II Hight Mast Luminaires Offer Option for New and Existing Applications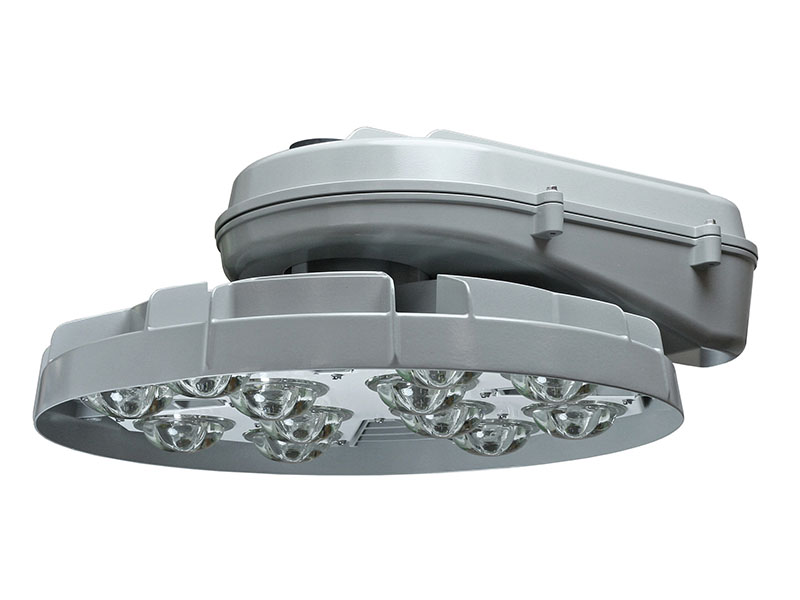 Luminaires improve visibility, slash operating costs for area and roadway lighting
GRANVILLE, Ohio (January 7, 2015) -- New HMAO™ LED II High Mast Series luminaires from Holophane allow lighting system owners and designers to upgrade existing and new construction high mast systems to LED. The new LED high mast system provides excellent visibility from a white LED light source while reducing energy and maintenance costs by up to 75 percent over incumbent HID light systems.
HMAO LED II luminaires ensure design flexibility with an advanced optical system to meet a variety of requirements in applications ranging from large areas, including seaports and rail yards, to roadway and interchange lighting. Existing HID fixtures may be easily replaced and require no rewiring or changing the existing mounting arms.
Highly sustainable HMAO LED fixtures include the following features for increased efficiency and longevity:
Multiple lumen packages to replace 400- to 1,000-watt metal halide and high pressure sodium luminaires;
Permanent prismatic glass optics to minimize dirt depreciation and eliminate potential dark spots for improved safety;
Zero uplight optics to reduce sky glow and meet Dark Sky requirements;
Advanced controls that allow fixtures to produce only the necessary level of light and only when needed, saving up to 40 percent in annual energy costs;
Heat dissipating fins to provide long LED driver life;
Robust design with IP 66 optics to provide a complete seal from the outdoor elements, low copper castings painted with our super durable paint for long life, 3G rating for high vibration applications, and sturdy 4-bolt arm mounting.
"The HMAO LED II luminaire expands optical breadth with higher lumen packages, allowing our customers to install this product in a larger pallet of roadway and area applications, both new construction and retrofit opportunities," said David Deck, Product Manager, Infrastructure.  "The high application efficacy of the luminaire substantially reduces energy costs while long system life reduces maintenance costs, providing sound economic reason to convert to HMAO LED II now."
Holophane offers the HMAO LED II system with a choice of distributions: narrow asymmetric roadway, medium asymmetric, forward throw asymmetric, area narrow and area wide. High mast LED luminaires are also available with 6, 9 or 12 LED module configurations and 4,000 K or 5,000 K color temperature. 
Options include a choice of luminaire colors and a premium Dark to Light® solid style photocontrol with a 10-year rated life and 5-year limited warranty, or a 20-year rated life and a 10-year limited warranty. The ANSI standard locking style receptacle accepts 3, 5, or 7 pin controls for on/off operation, with the 5 and 7 pin controls providing fixture dimming.
HMAO LED II luminaires are UL 1598 safety listed to 40ºC wet location, with typical applications including port container facilities, highways and interchanges, toll plazas, rail yards, large area industrial facilities, parking areas, airports, truck stops, correctional facilities and other locations that require security lighting. The fixtures are virtually maintenance free and offer a rated service life of approximately 25 years.
For more information about new HMAO LED II luminaires or any of the line of roadway and area lighting solutions from Holophane, visit www.holophane.com​ or call 1-800-759-1577.
About Holophane
Headquartered in Granville, Holophane has been the leader in lighting solutions for 110 years. An Acuity Brands company, Holophane provides energy efficient lighting systems for a range of commercial, industrial and outdoor applications. Visit www.holophane.com​ to experience lighting's best. 
CONTACTS
Kate Thacker

Account Manager

United States

404-879-9278