Extreme Heat? Cold? Try OnePass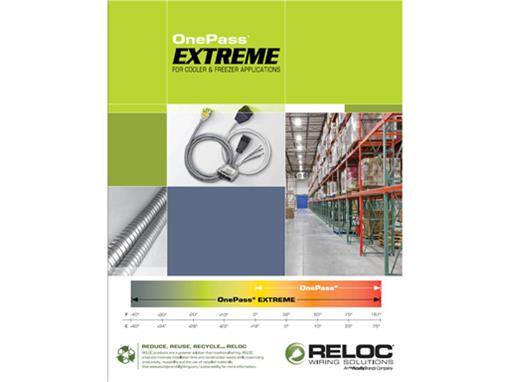 OnePass® Extreme
is a new offering from the
RELOC®
Wiring Solutions family that's positioned for extremely low and high temperature environments. It provides the same plug-and-play installation, low maintenance and cost saving benefits of the traditional RELOC system with one distinct difference: It's suited for facilities with long-term exposure to severe temperatures. Examples: warehouse coolers, freezers, food distribution buildings, and unheated spaces.
OnePass Extreme can be used in applications with temperatures ranging from as low as -40o Celsius / -40o Fahrenheit to as high as 75oCelsius / 167o Fahrenheit. Normal thermoplastic high heat-resistant nylon-coated (THHN) wiring systems would break down and become brittle in those extreme temperature ranges. Like other OnePass products, OnePass Extreme is UL/CUL listed.
Click here
to see a detailed brochure.
CONTACTS
Stacie Oden

Project Manager

United States

stacie.oden@definition6.com

404-870-0323