DanaLite FlexConnect™ Architectural-Grade LED Linear Lighting System from Acuity Brands Offers Durable, High Quality Alternative to Standard Tape Light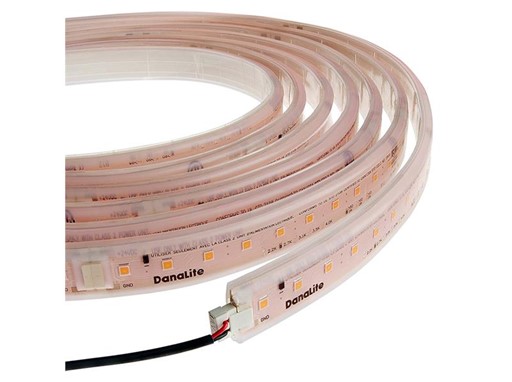 ATLANTA – October 20, 2016 – 
Acuity Brands, Inc.
 (NYSE: AYI) today introduced the 
DanaLite FlexConnect™ architectural-grade LED linear lighting system
 designed for use in hospitality, commercial office, retail and high-end residential applications. Due to its patent-pending embedded connectors, the DanaLite FlexConnect lighting system is the only encapsulated LED strip that can be field-cut and reconnected in six-inch increments. This reconnectability feature simplifies installation and configuration and helps eliminate waste.
DanaLite FlexConnect LED linear lighting offers superb lighting performance, producing up to 450 lumens per foot of brilliant white light in CCTs from 2200 to 4000K. Unlike other flexible LED strips, each six-inch segment of DanaLite FlexConnect lighting includes onboard current regulation to eliminate voltage drop and light degradation over long linear runs. DanaLite FlexConnect lighting is also the only flexible strip on the market that features a patent-pending, UV-stable optical pigment to correct the color shift that results from silicone encapsulation. Additionally, this proprietary pigment improves color quality, resulting in excellent color rendering (up to 95 CRI) and industry leading color consistency of less than a 3-step MacAdam ellipse.
"Danalite FlexConnect is economical, architectural-grade linear lighting in a flexible format. It is an ideal solution for cove, accent and task illumination in hospitality, commercial office, retail, and residential applications," said John Whittenhall, Director of Product Management, Acuity Brands Lighting.  "No other linear lighting product gives specifiers and contractors as many installation configurations for as many diverse applications while maintaining such high quality of illumination."
DanaLite FlexConnect lighting is available in both Indoor (damp location) and Indoor/Outdoor (IP67 Wet Location) versions.
CONTACTS
Neil Egan

Director, Communications

United States

Neil.Egan@acuitybrands.com

770-860-2957