American Electric Lighting Offers Popular Post Top Series Luminaires in LED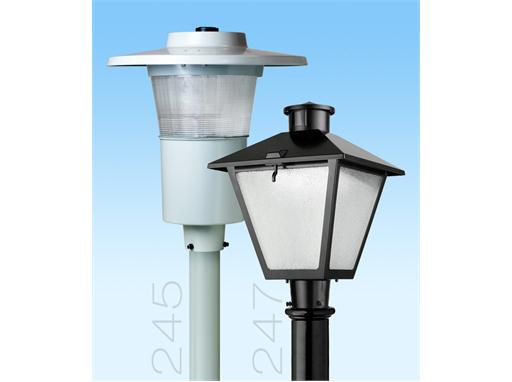 Contempo and American Revolution fixtures provide features, options for long-term performance in range of environments
Acuity Brands, Inc. announces popular post top decorative Contempo and American Revolution luminaires from American Electric Lighting​ are now available in LED. The Contempo 245L and American Revolution 247L Series LED luminaires merge aesthetics and easy installation with excellent optical control and heat dissipation for years of reliable and maintenance-free operation.
Designed for long-term performance, the Contempo and American Revolution luminaires feature a LED light engine that is rated for more than 100,000 hours at a 25ºC ambient. Its electronic multi-volt driver is rated for a minimum of 50,000 hours and up to 100,000 hours at 25ºC. A surge protection device, which is standard, and optional solid-state lighting photocontrol help protect against electrical disturbances, including lightning.
Downward lumens provided by both the Contempo and American Revolution luminaires ensure the same performance as up to a typical 150-watt high-pressure sodium platform, with the fixtures available with six lumen packages and multiple distributions. The LED luminaires are offered with many options including various optics (including rain panel acrylic and rain panel polycarbonate), paint colors and color temperatures of 3000K, 4000K or 5000K.
"Contempo and American Revolution LED luminaires are designed to provide utility-grade standardized features, value and performance for municipalities and utilities converting to LED in common applications," said Jim Jackson, Acuity Brands Lighting Value Stream Leader, Architectural Outdoor. "Both LED luminaires are fully controls compatible to reduce operating and maintenance costs."
American Revolution LED Series luminaires create a decorative reminder of yesteryear for municipal and residential streets, streetscapes, walkways, pathways and parks. More modern Contempo LED Series luminaires are ideal for streetscapes, walkways, pathways and parks.
Both luminaires are CSA rated suitable for a 30ºC ambient. For further details about Contempo LED and American Revolution LED luminaires and the options available, visit www.amercianelectriclighting.com​ or call 800-754-0463.
About American Electric Lighting
Headquartered in Granville, Ohio, American Electric Lighting has been recognized for the highest quality and reliability in outdoor, utility and infrastructure lighting for over 60 years. An Acuity Brands Company, AEL provides energy efficient lighting systems for a range of utility, DOT, municipal and other outdoor applications.
Visit www.americanelectriclighting.com​ to see the latest product news from AEL.
About Acuity Brands
Acuity Brands, Inc. is a North American market leader and one of the world's leading providers of lighting solutions for both indoor and outdoor applications. With fiscal year 2013 net sales of over $2 billion, Acuity Brands employs approximately 6,500 associates and is headquartered in Atlanta, Georgia with operations throughout North America, and in Europe and Asia.  The Company's lighting solutions are sold under various brands, including Lithonia Lighting®, Holophane®, Peerless®, Gotham®, Mark Architectural Lighting™, Winona® Lighting, Healthcare Lighting®, Hydrel®, American Electric Lighting®, Carandini®, Antique Street Lamps™, Sunoptics®, Axion™ Controls, Sensor Switch®, Lighting Control & Design™, Synergy® Lighting Controls, Pathway Connectivity™, Dark to Light®, ROAM®, RELOC® Wiring Solutions, Acculamp® and eldoLED®.
#     #    # 
CONTACTS
Neil Egan

Director, Communications

United States

Neil.Egan@acuitybrands.com

770-860-2957