Acuity Brands Recognized as Outstanding Supplier by Grainger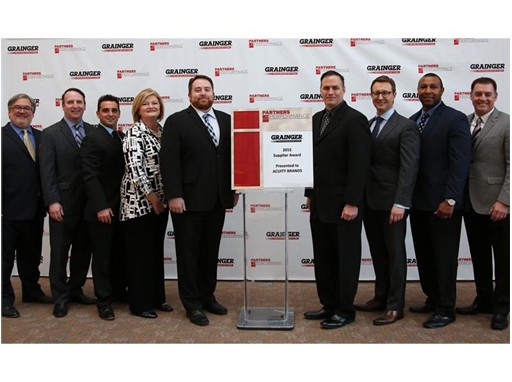 ATLANTA, GA (March 17, 2016) – Acuity Brands was presented with a 2015 Partners in Performance Award as part of Grainger's annual supplier recognition event in Chicago. Grainger, the leading broad line supplier of maintenance, repair and operating (MRO) products serving businesses and institutions, presents the yearly award to a select group of suppliers for outstanding performance throughout the year.
Through this award, suppliers are recognized for excellence in several categories, including responsiveness, information integrity, on-time shipping, management commitment and order fulfillment.  Each Grainger supplier receives ratings throughout the year for its respective performance in each of these categories. Out of Grainger's more than 3,500 active suppliers, less than 1 percent are chosen to receive these annual awards.

"Acuity Brands is thrilled to receive a Partners in Performance Award from Grainger," said Dennis Noyce, Acuity Brands Lighting Vice President-Strategic Account Sales. "This is truly an elite designation that our team is very proud to have earned. Also, it reinforces to us our desire to continue to meet and exceed service expectations. We are most appreciative of the partnership we share with Grainger."

"Grainger is proud to recognize Acuity Brands for its outstanding supplier performance," said Fred Costello, Grainger Vice President, Global Product Management. "Our customers expect quality products consistently delivered to the right place at the right time. This is not possible without the commitment, dedication and outstanding service of our Partners in Performance suppliers."
About Acuity Brands

Acuity Brands, Inc. (NYSE: AYI) is a North American market leader and one of the world's leading providers of indoor and outdoor lighting and energy management solutions. With fiscal year 2015 net sales of $2.7 billion, Acuity Brands currently employs approximately 9,000 associates and is headquartered in Atlanta, Georgia with operations throughout North America, and in Europe and Asia. The Company's products and solutions are sold under various brands, including Lithonia Lighting®, Holophane®, Peerless®, Gotham®, Mark Architectural Lighting™, Winona® Lighting, Juno®, Indy™, AccuLite®, Aculux™, NaviLite® and DanaLite, Healthcare Lighting®, Hydrel®, American Electric Lighting®, Carandini®, Antique Street Lamps™, Sunoptics®, RELOC® Wiring Solutions, eldoLED®, Distech Controls® and Acuity Controls™. Visit us at www.acuitybrands.com​.
# # #
CONTACTS
Neil Egan

Director, Communications

United States

Neil.Egan@acuitybrands.com

770-860-2957