Acuity Brands Receives Two Graybar Supplier Excellence Awards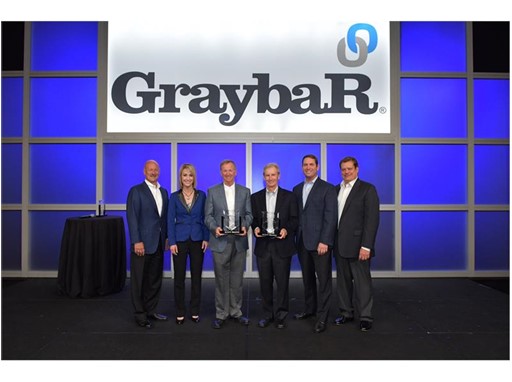 ATLANTA – September 21, 2016 – 
Acuity Brands, Inc.
(NYSE: AYI), a leading provider of indoor and outdoor lighting and energy management solutions, was presented with both the Graybar® Growth Award and Graybar Alliance Award during Graybar's National Training Conference held recently in San Antonio. It marks the first time in Graybar's history the same supplier has captured two of the top three Supplier Excellence Awards. 
The Graybar Supplier Excellence Award is presented semi-annually to recognize product manufacturers that have collaborated with Graybar in an exceptional manner to successfully grow profitable business together. The award has three subcategories focused on growth, profitability and engagement. The Growth Award represents significant sales growth and performance during the year, while the Alliance Award is given to the supplier that most effectively aligns, connects and works with Graybar's branches and districts.
"It is a real achievement to receive any one of the three Graybar Supplier Excellence Awards, but to receive two is a tremendous honor and great indication of the partnership between our organizations," said Sero Cardamone, SVP-Sales, Acuity Brands Lighting. "The Alliance Award is particularly significant because it is voted on by the Graybar districts and demonstrates our strong local support for their business initiatives and success."
Graybar, a Fortune 500 corporation and one of the largest employee-owned companies in North America, is a leader in the distribution of high quality electrical, communications and data networking products, and specializes in related supply chain management and logistics services. 
CONTACTS
Neil Egan

Director, Communications

United States

Neil.Egan@acuitybrands.com

770-860-2957