Acuity Brands Receives Prestigious Award for Peerless Marketing Campaign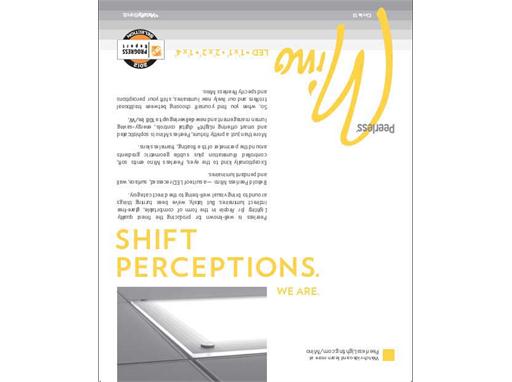 Acuity Brands announced today that Architectural SSL magazine selected Peerless® as its Market Leader for Outstanding Media Campaign winner in the 2013 Product Innovation Awards (PIA). The award recognizes the integrated marketing campaign touting the Peerless Mino luminaires.
 
The comprehensive multimedia campaign utilizes advertisements, collateral, web marketing, email, social media and public relations to effectively promote the new line of Peerless LED luminaires. 
 
One of the most recognizable pieces of the campaign includes upside-down print advertisements.
 
"The upside-down format is designed to garner attention, intrigue readers and create an interactive element whereby one flips the page around to continue reading the ad," said Peerless Marketing Communications Supervisor and campaign creator Randall Beren. "Moreover, this unique approach visually ties with the message that Peerless is now 'turning things around' by expanding our focus beyond indirect luminaires to include direct ambient luminaires."
 
"In other words," Beren continued, "we're asking architects, designers and other specifiers to 'Shift Perceptions' and think about Peerless and our luminaires in a whole new light.".
 
Another key component of the campaign is the informative product video that to date has garnered more than 1,200 views on Vimeo, YouTube and the Peerless website.
 
The Peerless Mino suite – which currently includes recessed, pendant and surface-mount 2' x 2' luminaires and that will soon be extended to include 1' x 1' and 1' x 4' models – delivers energy efficiency, quality optics, controls compatibility and application flexibility in a stylish, contemporary form. When illuminated, subtle gradient shadowing appears along the perimeter of the Peerless Mino lens surface. As the luminaire is viewed from different angles, these sophisticated abstractions shift in appearance adding drama and distinction.
 
Architectural SSL PIA recognitions determine and honor the most innovative LED and solid-state luminaires and fixtures on the market, while also recognizing the players behind the components that make up these light sources. For more information about  PIA, please visit www.architecturalssl.com/pia/.
 
For more information about Peerless Mino and to view many of the award winning campaign materials including the video, please visit www.PeerlessLighting.com/Mino. The upside-down ad can been seen again in the May 2013 issue of Architectural SSL.
 
About Acuity Brands
Acuity Brands, Inc. is a North American market leader and one of the world's leading providers of lighting solutions for both indoor and outdoor applications. With fiscal year 2012 net sales of over $1.9 billion, Acuity Brands employs approximately 6,000 associates and is headquartered in Atlanta, Georgia with operations throughout North America, and in Europe and Asia. The company's lighting solutions are sold under various brands, including Lithonia Lighting®, Holophane®, Peerless®, Gotham®, Mark Architectural Lighting(TM), Winona® Lighting, Healthcare Lighting®, Hydrel®, American Electric Lighting®, Carandini®, Antique Street Lamps(TM), Tersen®, Sunoptics®, Sensor Switch®, Lighting Control & Design(TM), Synergy® Lighting Controls, Pathway Connectivity(TM), Dark to Light®, ROAM®, RELOC® Wiring Solutions, Acculamp® and eldoLED®.
About Architectural SSL Product Innovation Awards (PIA)
The Architectural SSL Product Innovation Awards (PIA) determine and honor the most innovative LED/ solid-state luminaires and fixtures on the market, while also recognizing the companies behind the components that make up these light sources. The PIA program also recognizes leaders in categories ranging from those conducting cutting-edge R+D, to those helping in the development of standards as well as those pushing to make solid-state lighting a truly sustainable technology.
 
Construction Business Media, headquartered in Chicago, is publisher of Architectural Products, Illuminate and Architectural SSL magazines.  The company also operates the ArchLED Conference, markets and partners in TheContinuingArchitect.com educational platform, and maintains websites and electronic extensions of its print publications.
 
#     #     #
CONTACTS
Neil Egan

Director, Communications

United States

Neil.Egan@acuitybrands.com

770-860-2957