Acuity Brands Outdoor LED Lighting Helps Wisconsin Healthcare Provider to Achieve Sustainability and Energy Savings Goals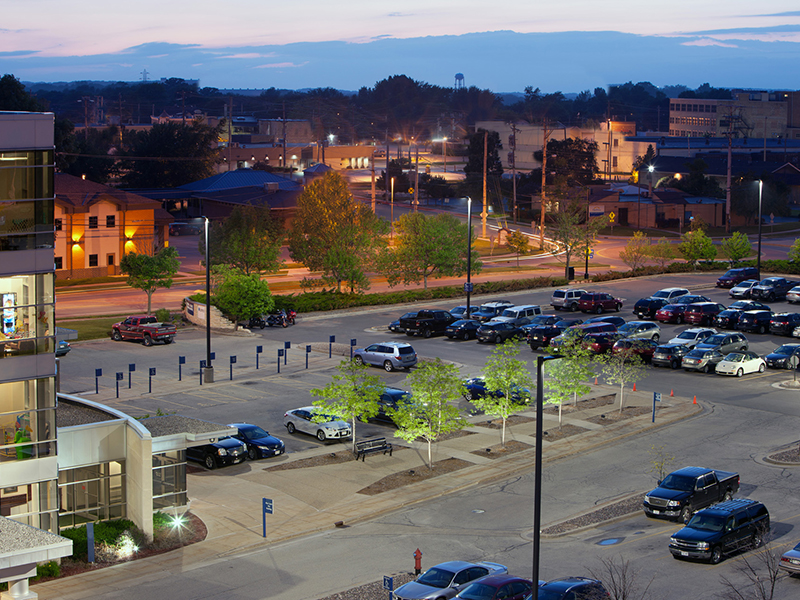 ThedaCare health system wins industry award for highest percentage in energy savings for a single parking structure.
ThedaCare™​ health system selected outdoor LED lighting from Acuity Brands, Inc.​ to address safety, energy and maintenance concerns at two of its leading campuses. Sixty high-performance D-Series LED luminaires from Lithonia Lighting®​ were installed in parking areas to replace 84 existing high-pressure sodium (HPS) and metal halide (MH) fixtures, delivering a projected annual energy savings of more than $40,000.  
"We knew this project was special from the beginning, and it was reaffirmed when the Lighting Energy Efficiency in Parking (LEEP) Campaign selected our Appleton Medical Center parking project as the winner for the 'Highest Percentage Savings in a Retrofit at a Single Parking Structure' category," said ThedaCare Sustainability Leader Paul Linzmeyer. "It is clear the D-Series family of fixtures have enabled ThedaCare to continue to progress in the right direction for our sustainability and energy savings goals, while also increasing the quality of light on our campuses to enhance the safety of staff, patients and visitors. Since the installation, we have seen significant improvement in energy efficiency and light quality."
D-Series Area LED luminaires were installed in parking lots on both the Theda Clark and Appleton Medical Center campuses. Appleton Medical Center also installed LED Wallpacks, LED Floodlights and LED Parking Garage luminaires from the D-Series family. In addition to reduced energy and maintenance costs, the quality of lighting improved immensely, eliminating dark spots and enhancing visibility on the campuses' security cameras. Lighting overflow into surrounding residential areas was also greatly reduced.
The D-Series family of outdoor LED luminaires can deliver a 100,000-hour expected service life, or up to 10 years of operation, as opposed to the three-year maintenance cycle before the retrofit. The LED luminaires deliver outstanding photometric performance, long-life and energy efficiency in a stylish, easy-to-specify collection that will suit any outdoor application. Installing D-Series LED luminaires can result in up to 80 percent in energy savings when replacing HID luminaires.
For more information on the D-Series LED family from Lithonia Lighting, visit www.lithonia.com/d-series​.     
About Acuity Brands
Acuity Brands, Inc. is a North American market leader and one of the world's leading providers of lighting solutions for both indoor and outdoor applications. With fiscal year 2013 net sales of over $2 billion, Acuity Brands employs approximately 6,800 associates and is headquartered in Atlanta, Georgia with operations throughout North America, and in Europe and Asia.  The Company's lighting solutions are sold under various brands, including Lithonia Lighting®​, Holophane®​, Peerless®​, Gotham®​, Mark Architectural Lighting™, Winona®​ Lighting, Healthcare Lighting®​, Hydrel®, American Electric Lighting®​, Carandini®​, Antique Street Lamps™, Sunoptics®​, Sensor Switch®​, Lighting Control & Design™, Synergy® Lighting Controls, Pathway Connectivity Solutions®, Dark to Light®​, ROAM®​, RELOC®​ Wiring Solutions, Acculamp®​ and eldoLED®​.
About ThedaCare
ThedaCare™ is a community health system consisting of five hospitals: Appleton Medical Center, Theda Clark Medical Center, New London Family Medical Center, Shawano Medical Center, and Riverside Medical Center in Waupaca. ThedaCare also includes ThedaCare Physicians, ThedaCare Behavioral Health, and ThedaCare at Home. Letters of intent to affiliate have been signed with Community Health Network and Wild Rose Memorial Hospital. ThedaCare is the largest employer in Northeast Wisconsin with more than 6,175 employees and is a member of the Mayo Clinic Care Network.
About LEEP Campaign
The LEEP Campaign effort is a collaboration between the Building Owners and Managers Association (BOMA) International, the Green Parking Council and the International Facility Management Association (IFMA). It is a recognition and guidance program that encourages facility owners and managers to take advantage of savings opportunities from high efficient lighting solutions in their parking facilities.
CONTACTS
Neil Egan

Director, Communications

United States

Neil.Egan@acuitybrands.com

770-860-2957