Acuity Brands Launches Peerless® Open LED Product Family, Bringing Clean Design and Continuous Linear Illumination to Work Spaces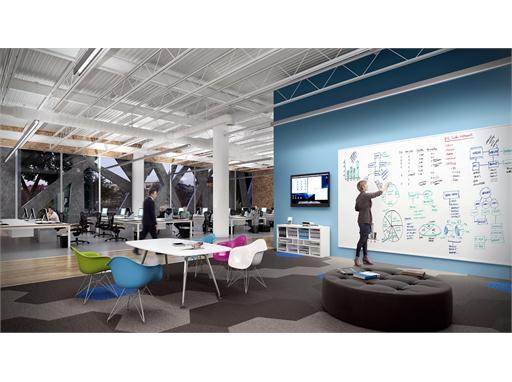 ATLANTA – September 17, 2015 – Acuity Brands, Inc. (NYSE: AYI) has opened up a world of inspiring possibilities for clean, uninterrupted lines of light with its award-winning LED lighting innovation: Peerless® Open LED luminaires.
Peerless from Acuity Brands announces the commercial availability of Open, a family of lens-free LED luminaires for offices, as well as educational and healthcare facilities that brings a new aesthetic to commercial architects and lighting designers. By eliminating connection seams, Peerless Open has solved the technological riddle that had previously prevented seamless, continuous linear lighting. The result is uniform, glare-free illumination without the leaks, seams and dust incumbent with linear lenses.
"With Peerless Open, we have converged the art and science of commercial light to create 'illumination that inspires'," said Kai Jaffe, Product Manager, Acuity Brands Lighting. "This innovative, energy-efficient LED luminaire combines the aesthetic appeal of uninterrupted continuous linear lighting with customizable uplight/downlight flexibility. The result is soft, eye-friendly illumination in a complete family of luminaires giving specifiers the ability to design a space with a single aesthetic while having the flexibility needed for modern, multi-use spaces."
The patented optical design of the Peerless Open luminaires use constructive occlusion to reflect and diffuse LED light up and across the inner arch and back down, minimizing glare and eliminating the need for a lens. The proprietary injection molded top optic of Open Indirect/Direct creates an optimal batwing distribution on the ceiling, lessening the amount of fixtures needed in a space. The seam eraser technology eliminates all internal luminaire connection seams for an unbroken line of light in runs of any length.
Multiple options are available including integration with nLight® technology from Acuity Controls creating a powerful networked system that can incorporate motion sensors, daylight sensors, manual dimming, occupancy detection and/or time-based strategies for lighting. Additionally, the eldoLED® driver provides natural, smooth and flicker-free dimming-to-dark capability, setting a new standard in architectural dimming.
Available in suspended and surface mount versions today with a recessed version coming this fall, Peerless Open has multiple mounting options that enable easy integration in a building, ensuring design and illumination consistency throughout the facility.
Peerless Open was the recipient of the Most Innovative Product of the Year award in the LFI Innovation Awards® competition during LIGHTFAIR® International 2014.
For more information about the Peerless Open line and other LED solutions from Acuity Brands, visit www.acuitybrands.com.
About Acuity Brands
Acuity Brands, Inc. is a North American market leader and one of the world's leading providers of lighting solutions for both indoor and outdoor applications. With fiscal year 2014 net sales of $2.4 billion, Acuity Brands employs approximately 7,000 associates and is headquartered in Atlanta, Georgia with operations throughout North America, and in Europe and Asia.  The Company's lighting solutions are sold under various brands, including Lithonia Lighting®, Holophane®, Peerless®, Gotham®, Mark Architectural Lighting™, Winona® Lighting, Healthcare Lighting®, Hydrel®, American Electric Lighting®, Carandini®, Antique Street Lamps™, Sunoptics®, RELOC® Wiring Solutions, eldoLED® and Acuity Controls. For more information, visit www.acuitybrands.com​.
#     #     #
CONTACTS
Kelsey Walker

Account Executive

United States

kelsey.walker@ketchum.com

-