Acuity Brands Introduces Two Compact and Powerful Outdoor LED Luminaires for Light Commercial or Residential Applications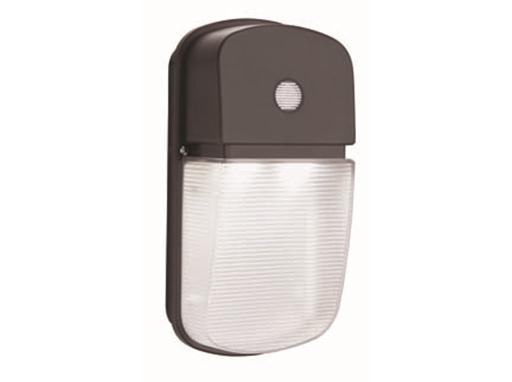 Acuity Brands, Inc.​ expands its outdoor LED lighting solutions with the launch of the OLFL 14 LED security floodlight and the OLWP 11 LED wall pack from Lithonia Lighting®​. Both outdoor fixtures feature high-powered LEDs and a compact design to fit well with any building type in light commercial or residential applications such as townhomes or self-storage units. Each LED luminaire consumes only 20 watts and feature long-life LEDs, which are rated to produce more than 70 percent of original light output at an expected 50,000 hours of service. 
The OLFL 14 security LED floodlight​ uses highly efficient LED technology that provides 74 lumens per watt. It can provide energy savings of up to $135 annually (based on 12 hours of operation per day with energy costs of $0.11 per kWh) compared to 300-watt quartz halogen. Two high-powered LEDs provide 1,351 lumens in a neutral 4000K correlated color temperature.
The OLWP 11 LED wall pack​ provides 55 lumens per watt and delivers an energy savings of up to 80 percent when compared to 70-watt high pressure sodium. The LED wall pack features a slim modern design that fits well with any building style. A fully gasketed polycarbonate lens helps deliver even light distribution.
"The OLFL 14 and the OLWP 11 LED luminaires are high quality products that allow homeowners to experience the same benefits of LED lighting as our commercial customers," said Dan Armstrong, Lithonia Lighting Value Stream Manager, Outdoor.
Both the OLFL 14 LED security floodlight and OLWP 11 LED wall pack include standard photocell controls that power the light on at dusk and off at dawn.
For more information about the OLFL 14 LED security floodlight or the OLWP 11 LED wall pack, please visit www.lithonia.com​ or www.acuitybrands.com​.
About Acuity Brands
Acuity Brands, Inc. is a North American market leader and one of the world's leading providers of lighting solutions for both indoor and outdoor applications. With fiscal year 2012 net sales of over $1.9 billion, Acuity Brands employs approximately 6,000 associates and is headquartered in Atlanta, Georgia with operations throughout North America, and in Europe and Asia. The company's lighting solutions are sold under various brands, including Lithonia Lighting®, Holophane®, Peerless®, Gotham®, Mark Architectural Lighting™, Winona®, Healthcare Lighting®, Hydrel®, American Electric Lighting®, Carandini®, Antique Street Lamps™, Tersen®, Sunoptics®, Sensor Switch®, Lighting Control & Design™, Synergy® Lighting Controls, Pathway Connectivity™, Dark to Light®, ROAM®, RELOC® Wiring Solutions, Acculamp® and eldoLED®.
CONTACTS
Neil Egan

Director, Communications

United States

Neil.Egan@acuitybrands.com

770-860-2957