Acuity Brands Introduces Energy Saving Post Top LED Luminaires From Antique Street Lamps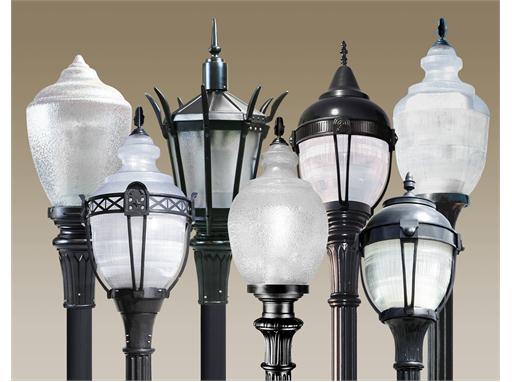 Acuity Brands Inc. has launched four new post top LED luminaires from Antique Street Lamps® that combine modern LED light sources with a traditional appearance. The RG LED Series, AL25 LED, LTL30 LED and ATL23 LED post top luminaires provide energy savings and visually appealing outdoor LED lighting. All four LED post tops feature long-life LED technology to minimize maintenance time and costs. They are ideal for applications such as city streets and parking lots, parks, residential areas, campuses, and walkways.
RG LED Series post top LED luminaires feature a prismatic acorn globe that puts light where it is needed most, while spreading the direct light source throughout the entire globe. The series includes a selection of prismatic globes that create a balance between efficient optical performance and aesthetics. Additionally, there are multiple aesthetic options, including nine available base styles, decorative and clear metal tops, bands and medallions. RG LED Series luminaires have long-life LEDs with an expected service life of 50,000 - 70,000 hours.
AL25 LED post top luminaires have nine base style options and an optional decorative cage and finial. The wide variety of housings and accessories make AL25 LED post top luminaires suitable for virtually any pedestrian application. They also feature long-life LEDs with an expected service life of 50,000 - 70,000 hours.
LTL30 LED post top luminaires feature an octagonal shape with stainless steel hardware. These luminaires pair with seven base styles and also feature long-life LEDs with an expected service life of more than 70,000 hours.
ATL23 LED luminaires are acorn-styled post top LED luminaires with a powder coat finish and premium polyester powder paint. The ATL23 LED light engine is powered by up to 32 LEDs strategically mounted to provide a suitable asymmetric or symmetric light distribution. The projected service life of ATL23 LED post top luminaries is 50,000 - 70,000 hours.
"This variety of new post top LED luminaires offer quality illumination and beauty while providing energy efficiency," said Ben Prichard, Value Stream Manager, Period Outdoor, Antique Street Lamps. "Acuity Brands continues to upgrade products with LED-technology to develop money-saving, long-lasting lighting solutions."
All four post top LED luminaires feature a driver life of up to 100,000 hours at 25ºC and a 5-year limited warranty. For more information on the upgraded post top LED lighting options from Antique Street Lamps, please visit www.antiquestreetlamps.com or www.acuitybrands.com.
About Acuity Brands
Acuity Brands, Inc. is a North American market leader and one of the world's leading providers of lighting solutions for both indoor and outdoor applications. With fiscal year 2012 net sales of over $1.9 billion, Acuity Brands employs approximately 6,000 associates and is headquartered in Atlanta, Georgia with operations throughout North America, and in Europe and Asia. The company's lighting solutions are sold under various brands, including Lithonia Lighting®, Holophane®, Peerless®, Gotham®, Mark Architectural Lighting™, Winona® Lighting, Healthcare Lighting®, Hydrel®, American Electric Lighting®, Carandini®, Antique Street Lamps™, Tersen®, Sunoptics®, Sensor Switch®, Lighting Control & Design™, Synergy® Lighting Controls, Pathway Connectivity™, Dark to Light®, ROAM®, RELOC® Wiring Solutions, Acculamp® and eldoLED®.
CONTACTS
Neil Egan

Director, Communications

United States

Neil.Egan@acuitybrands.com

770-860-2957