ACUITY BRANDS INTRODUCES COMPLETE LIGHTING SOLUTIONS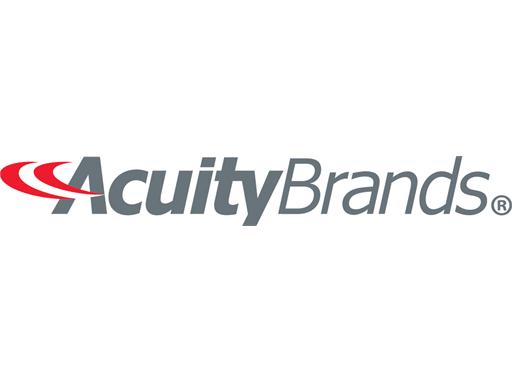 New bundled lighting and controls systems work seamlessly together streamlining the specification and installation phases of a project
ATLANTA -- May 5, 2015
–
Acuity Brands, Inc.
(NYSE: AYI), one of the world's leading providers of lighting solutions for both indoor and outdoor applications, sets the lighting industry standard for interoperability with complete lighting solutions, a series of fully integrated LED lighting and control systems.
Complete lighting solutions
, which utilize compatible luminaires and controls, are designed to work seamlessly as an integrated system making it simpler and more cost-effective to specify, install and commission lighting systems for various applications, including commercial office, parking garages, automotive parking lots, and industrial warehouses.
"Today's digital lighting systems can be complex, but our complete lighting solutions streamline the specification and installation phases of such systems," said Fawaz Khalil, Vice President, VP-Vertical Marketing & Solutions, Acuity Brands Lighting. "Fully integrated and network-enabled luminaires and controls enable our customers to satisfy their immediate lighting needs quickly, and to easily upgrade functionality in the future."
Complete lighting solutions are easier to specify because the entire system comes from one manufacturer, Acuity Brands, which develops each solution to be complete and aligned with the application's specific needs. In addition, Acuity Brands offers
A+ Certified
where major components of a lighting system are designed, manufactured and tested for interoperability. As part of the certification, initial lumen output, color consistency and dimming levels are factory-calibrated and verified.
Acuity Brands will have multiple complete lighting solutions on display at its booth at LIGHTFAIR® International at the Javits Convention Center in New York City from May 5th through the 7th, including:
Commercial Office
A "one stop shop" solution for a back-to-front lighting system for a commercial office or similar configuration that includes controls to meet any level of sophistication the lighting project dictates. This innovative, integrated lighting and control solution for commercial office applications combines Lithonia Lighting® recessed LED Luminaires featuring eldoLED® technology, with award-winning nLight® control technology from Acuity Controls.
Parking Garage
An Acuity Brands premiere parking garage complete lighting solution brings together high-quality luminaires with wireless controls to provide quality of light, enhanced sense of safety, energy savings and operational efficiency. This solution features the Lithonia Lighting PGX LED garage and WL LED stairwell luminaires networked with XPoint™ Wireless from Acuity Controls. Facility managers benefit from easy-operation with programmed zonal control. Different zones can be programmed to respond to movement, time and daylight levels so energy use is minimized when full illumination is not needed.
Automotive Parking Lot
Optimizing the lighting on an auto dealership lot with an integrated LED lighting system can help save energy and cut operating costs by up to 75% compared to traditional parking lot lighting. Plus, the enhanced lighting performance and color consistency of a controlled LED lighting system creates crisp, consistent light on the car inventory. This complete lighting solution features the Lithonia Lighting D-Series family of outdoor luminaires paired with the ROAM® wireless control system to deliver greater flexibility with zone control, scheduling and full-range dimming control to create optimal lighting.
Industrial Warehouse
LED high bay luminaires from Lithonia Lighting, networked with a choice of controls from Acuity Controls and enhanced with daylighting provided by Sunoptics® skylights and flexibility provided by RELOC® modular wiring, create a complete, integrated system for industrial warehouses. The resulting complete lighting solution reduces energy consumption by as much as 60% when compared to traditional warehouse lighting, and automatically delivers light only when it's needed to enhance energy savings and reduce maintenance without compromising safety. This solution is also flexible, allowing configuration of individual fixtures or lighting zones according to changes in schedules, time of day, seasons or special projects.
Click
here
for more information on these and other Acuity Brands lighting solutions.
About Acuity Brands
Acuity Brands, Inc. is a North American market leader and one of the world's leading providers of lighting solutions for both indoor and outdoor applications. With fiscal year 2014 net sales of $2.4 billion, Acuity Brands employs approximately 7,000 associates and is headquartered in Atlanta, Georgia with operations throughout North America, and in Europe and Asia. The Company's lighting solutions are sold under various brands, including Lithonia Lighting®, Holophane®, Peerless®, Gotham®, Mark Architectural Lighting™, Winona® Lighting, Healthcare Lighting®, Hydrel®, American Electric Lighting®, Carandini®, Antique Street Lamps™, Sunoptics®, RELOC® Wiring Solutions, eldoLED® and Acuity Controls.
CONTACTS
Kate Thacker

Account Manager

United States

404-879-9278

Alex Emery

Ketchum

United States

alexandra.emery@ketchum.com

-