Acuity Brands Introduces Adjustable and Energy Efficient LED Downlighting Modules from Lithonia Lighting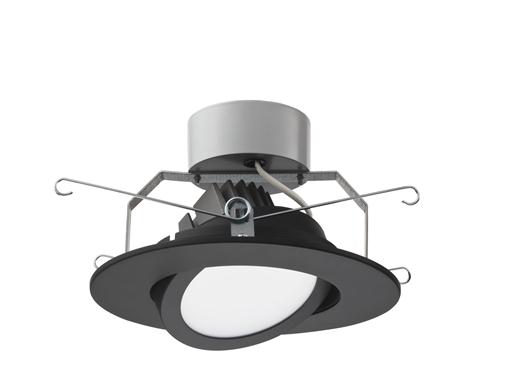 Acuity Brands, Inc.​. (NYSE: AYI) introduces LED Gimbal adjustable downlighting modules from Lithonia Lighting®​. The easy-to-install LED downlighting modules are 80 percent more efficient than comparable 50-watt and 65-watt incandescent luminaires. LED Gimbal downlighting modules provide directional lighting for accent and sloped ceiling applications in residential and commercial buildings.
"LED Gimbal downlighting modules are the only LED downlighting modules currently on the market that are available in three different sizes, including 4-inch, 5-inch and 6-inch," said Michael Bruce, Lithonia Lighting Value Stream Manager, Residential Downlighting. "With this new addition, our LED downlighting module portfolio can cover all residential recessed lighting needs."  
LED Gimbal downlighting modules are adjustable with more than a 35-degree tilt in both directions, and feature a 180-degree rotation to create an optimal lighting atmosphere. Compatible for retrofit and new construction applications, LED Gimbal downlighting modules boast a color-rendering index of 83 and a nominal color temperature of 3000K. They have an expected service life of 32 years when used 3 hours per day in a residential setting.
The LED downlighting modules are compatible with many common line voltage dimmers. The modules are available in white, black, oil-rubbed bronze and brushed nickel-finishes and fit most common industry housings.
For more information on LED Gimbal downlighting modules, visit www.lithonia.com​ or www.acuitybrands.com.​
About Acuity Brands
Acuity Brands, Inc. is a North American market leader and one of the world's leading providers of lighting solutions for both indoor and outdoor applications. With fiscal year 2012 net sales of over $1.9 billion, Acuity Brands employs approximately 6,000 associates and is headquartered in Atlanta, Georgia with operations throughout North America, and in Europe and Asia. The company's lighting solutions are sold under various brands, including Lithonia Lighting®, Holophane®, Peerless®, Gotham®, Mark Architectural Lighting™, Winona®, Healthcare Lighting®, Hydrel®, American Electric Lighting®, Carandini®, Antique Street Lamps™, Tersen®, Sunoptics®, Sensor Switch®, Lighting Control & Design™, Synergy® Lighting Controls, Pathway Connectivity™, Dark to Light®, ROAM®, RELOC® Wiring Solutions, and Acculamp®.
#     #     #
CONTACTS
Neil Egan

Director, Communications

United States

Neil.Egan@acuitybrands.com

770-860-2957