Acuity Brands Helps MIT Blend Modern LED Technology with Classic Architecture to Revive Historic Dome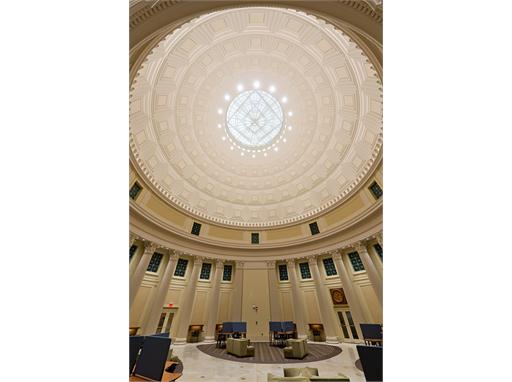 Gotham LED downlights illuminate reading space in the Barker Engineering Library; embedded controls interface with downlights and daylighting from Dome's skylight.
The Massachusetts Institute of Technology (MIT) installed 48 Incito™ LED downlights​ embedded with nLIGHT® lighting controls​ from Acuity Brands Inc.​ as part of the University's renovation of the Great Dome in the Barker Engineering Library. MIT updated the historic dome using integrated Gotham® LED downlighting with embedded controls to provide consistent light levels for reading in the library, while complementing daylighting from the Dome's skylight. The daylighting and electric lighting work together seamlessly to provide round-the-clock illumination during the library's 24-hour operation.
Since World War II, the skylight of the historic Great Dome was covered with blackout shades. In 2012, MIT uncovered the 25-foot skylight and was confronted with the challenge of how to integrate modern lighting into the classical-style architecture, while successfully illuminating a student study area featuring a 70-foot ceiling.
"The Incito LED downlights were specifically adjusted to create the perfect lighting solution for the reading area," said Gary Tondorf-Dick, MIT Department of Facilities, Manager of Special Projects. "We successfully achieved our goals with one solution. The alternative would have been to select more than one type of fixture, but this would have made the color matching process of each luminaire's light output more difficult."
The Incito LED downlight series provides MIT with adjustable and instantaneous dimming capabilities, consistent color quality, high efficacy and a variety of lumen packages. These features allow MIT to configure luminaires for its 70-foot ceiling heights and, in general, enable configurations for 12 to 100-foot ceiling heights. The downlights are paired with nLIGHT controls, making the lighting system easily dimmable through a control panel behind the librarian desk.
"The flexibility of the Incito luminaire enabled MIT to achieve both a functional and architectural design with just one solution," said Douglas Grove, Acuity Brands Lighting Vice President and Gotham Value Stream Leader. "The precision of the Incito LED luminaires and beam pattern is remarkable. By blending an array of luminaires mounted 70 feet above the reading space with recessed luminaires mounted lower around the parameter, MIT was able to achieve seamless smooth illumination that meets IES standards for reading levels and illuminates the architecture beautifully."
Please visit www.acuitybrands.com​ or www.gothamlighting.com​ to learn more.
About Acuity Brands
Acuity Brands, Inc. is a North American market leader and one of the world's leading providers of lighting solutions for both indoor and outdoor applications. With fiscal year 2012 net sales of over $1.9 billion, Acuity Brands employs approximately 6,000 associates and is headquartered in Atlanta, Georgia with operations throughout North America, and in Europe and Asia. The company's lighting solutions are sold under various brands, including Lithonia Lighting®, Holophane®, Peerless®, Gotham®, Mark Architectural Lighting™, Winona®, Healthcare Lighting®, Hydrel®, American Electric Lighting®, Carandini®, Antique Street Lamps™, Tersen®, Sunoptics®, Sensor Switch®, Lighting Control & Design™, Synergy® Lighting Controls, Pathway Connectivity Solutions®, Dark to Light®, ROAM®, RELOC® Wiring Solutions, Acculamp® and eldoLED®.
About Massachusetts Institute of Technology
Incorporated by the Commonwealth of Massachusetts on April 10, 1861, the Massachusetts Institute of Technology strives to advance knowledge and educate students in science, technology, and other areas of scholarship that will best serve the nation and the world in the 21st century. The Institute is committed to generating, disseminating, and preserving knowledge, and to working with others to bring this knowledge to bear on the world's great challenges. MIT is dedicated to providing its students with an education that combines rigorous academic study and the excitement of discovery with the support and intellectual stimulation of a diverse campus community.
#   #   #
CONTACTS
Neil Egan

Director, Communications

United States

Neil.Egan@acuitybrands.com

770-860-2957