Acuity Brands Expands Precision LED Downlighting Series from Gotham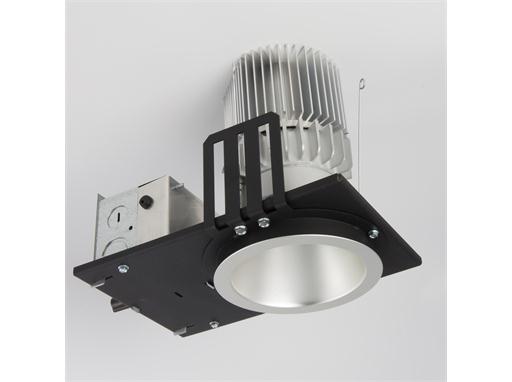 Acuity Brands adds seven innovative products to its LED downlighting portfolio. Gotham®​ packs the advantages of the Incito™ LED open downlight​ into a smaller, 4-inch aperture, joining the performance characteristics of multiple point-source systems into one platform. Deftly combining solid-state efficiency with precise beam spreads, multiple lumen outputs, and dependable color consistency, Incito LED downlights are capable of handling a wide range of lighting scenarios. This series gives lighting designers the freedom to specify a single LED luminaire system that can provide more than 2,000 different performance combinations.  
The additions to the Incito LED downlight family include: 4-inch round, square and cylinder luminaires; recessed 4-inch and 6-inch adjustable accent luminaires; and 4-inch round and square flangeless luminaires.
"Incito LED downlights blend optical precision and dimming performance for both functional and architectural lighting design," said Douglas Grove, Acuity Brands Lighting Vice President and Gotham Value Stream Leader. "The new 4-inch aperture was created to provide a remarkable downlighting solution with aesthetics, power and precision."
The 4-inch and 6-inch adjustable downlights feature optical performance along with continuous tilt capability from zero to 40 degrees. Four-inch round and square flangeless LED open downlights feature a modern, flush-mount appearance creating a visually quiet ceiling. The flange virtually disappears making it possible to achieve a clean, nearly invisible edge in drywall ceiling applications. The Incito LED downlight cylinder boasts the same performance as the downlight sibling in surface, wall and pendant mounting configurations.
The Incito LED downlight series features adjustable and instantaneous dimming capabilities, color quality, high efficacy and a variety of lumen packages, allowing designers to configure luminaires for 12 to 100-foot ceiling heights. The Incito LED luminaires are fully digitally addressable via DMX/RDM, DALI or nLight® controls, making these products an effective part of a comprehensive energy management system. 
Incito LED downlights are ideal for application in churches, auditoriums, hospitality, restaurants and airports.
The new Incito LED downlights will be featured at LIGHTFAIR® International in the Acuity Brands booth #801 from April 23 – 25, 2013. You can also visit www.acuitybrands.com​ or www.gothamlighting.com​ to learn more.
CONTACTS
Neil Egan

Director, Communications

United States

Neil.Egan@acuitybrands.com

770-860-2957