Acuity Brands Expands P Series LED Downlights Family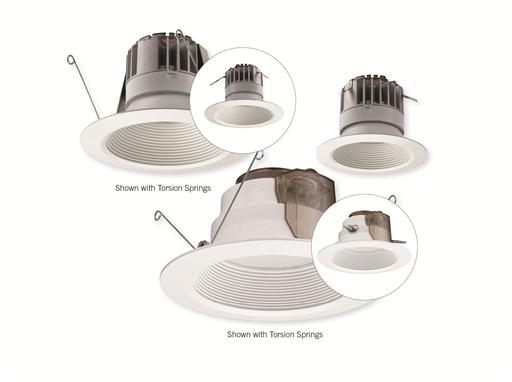 New P Series LED modules provide superior performance in the most popular can sizes, increasing versatility of the line
.
Acuity Brands, Inc.
has extended its line of
P Series LED Downlighting Modules
from
Lithonia Lighting®
. The family now features 4-inch, 5-inch and 6-inch LED modules that deliver an expected service life of 46 years* for a wide range of applications.
Designed to fit almost any manufacturer's recessed can-style housings (4-inch, 5-inch and 6-inch) for no-hassle retrofitting, the new P Series LED downlights offer more flexibility with the most popular downlight sizes for residential and light commercial applications. Additionally, the new 4-inch P Series LED downlight offers the same light output as a 65-watt incandescent lamp, to deliver more illumination from a smaller fixture size.
"The P Series modules set the bar for all other LED downlighting modules," said Michael Bruce, Lithonia Lighting Senior Value Stream Manager, Residential Downlighting and Track. "Traditional sources did not allow light output as high as a 65-watt incandescent from a 4-inch IC residential fixture, but the P Series accomplishes that while maintaining the key features of the original family: superior performance via easy installation, energy efficiency, long life and widely compatible dimming."
P Series LED downlighting modules are "instant on" and feature Center2Edge™ technology to dim from full illumination to a single point source, just like an incandescent lamp. The LED modules boast the ability to connect up to 60 units on a 600-watt dimmer, versus comparable LED downlighting modules that only connect eight units. This connectivity offers a controls and circuit breaker savings advantage.
For easy installation, the LED downlights are equipped with an E26 adapter and splice kit. Please visit Acuity Brands at
www.acuitybrands.com
and Lithonia Lighting at
www.lithonia.com
for more information.
*Operating at 50,000 hours at 3 hours per day.
About Acuity Brands
Acuity Brands, Inc. is a North American market leader and one of the world's leading providers of lighting solutions for both indoor and outdoor applications. With fiscalyear 2012 net sales of over $1.9 billion, Acuity Brands employs approximately 6,000 associates and is headquartered in Atlanta, Georgia with operations throughout North America, and in Europe and Asia. The company's lighting solutions are sold under various brands, including Lithonia Lighting®, Holophane®, Peerless®, Gotham®, Mark Architectural Lighting™, Winona®, Healthcare Lighting®, Hydrel®, American Electric Lighting®, Carandini®, Antique Street Lamps™, Tersen®, Sunoptics®, Sensor Switch®, Lighting Control & Design™, Synergy® Lighting Controls, Pathway Connectivity Solutions®, Dark to Light®, ROAM®, RELOC® Wiring Solutions, Acculamp® and eldoLED®.
CONTACTS
Neil Egan

Director, Communications

United States

Neil.Egan@acuitybrands.com

770-860-2957