Acuity Brands Earns Two Prestigious Awardsat 2015 Lightfair® International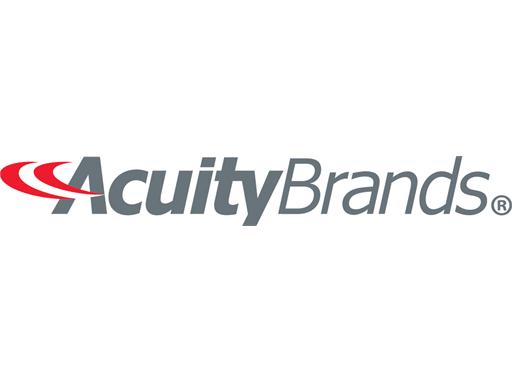 ACUITY BRANDS EARNS TWO PRESTIGIOUS AWARDS
AT 2015 LIGHTFAIR® INTERNATIONAL
ATLANTA – May 6, 2015 – Acuity Brands, Inc.​ (NYSE: AYI), one of the world's leading providers of lighting solutions for indoor and outdoor applications, earned the LFI Innovation Award® – Best in Category for Lighting Controls for the Fresco™ Show WM from Acuity Controls, and a 2015 Next Generation Luminaires (NGL) Indoor Award for the 4" Incito™ recessed downlight from Gotham®.
Both the LFI Innovation and NGL awards are judged by independent panels of esteemed lighting professionals, and recognize design and technology innovations in the lighting industry. All awards were presented on May 5th, in New York City during, LIGHTFAIR® International​ the world's largest annual architectural and commercial lighting trade show and conference.
"Earning recognition and accolades from noted lighting industry experts is extremely gratifying," said Audwin Cash, Vice President, Controls, Acuity Brands Lighting. "More importantly, these awards are reflective of our leadership in lighting innovation and our commitment to delivering exciting, practical lighting solutions to our customers."
Fresco Show WM​ is a stand-alone DMX512 lighting controller for dimmers and relays as well as for tunable white, moveable and multi-color LED luminaires. It mounts in a standard 3-gang wall box and is ideally suited for restaurant, retail, auditorium, ballroom, museum, exhibit and architainment spaces. Featuring a unique and approachable user interface, advanced lighting control capability has never been more accessible.
The precise lighting characteristics of the 4" Incito LED downlight​ make it a versatile tool for multiple applications. Deftly combining solid-state efficiency with consistent beam spreads, lumen output and color, the Incito digital addressability also enables ultra-smooth, instantaneous dimming. It's an extraordinary mix of aesthetics and precision in just a 4" aperture.
Acuity Brands is showcasing these and other lighting technology innovations at its booth #1640 at LIGHTFAIR International which continues through this Thursday, May 7th. Click here​ for more information on Acuity Brands lighting solutions.
About Acuity Brands
Acuity Brands, Inc. is a North American market leader and one of the world's leading providers of lighting solutions for both indoor and outdoor applications. With fiscal year 2014 net sales of $2.4 billion, Acuity Brands employs approximately 7,000 associates and is headquartered in Atlanta, Georgia with operations throughout North America, and in Europe and Asia. The Company's lighting solutions are sold under various brands, including Lithonia Lighting®, Holophane®, Peerless®, Gotham®, Mark Architectural Lighting™, Winona® Lighting, Healthcare Lighting®, Hydrel®, American Electric Lighting®, Carandini®, Antique Street Lamps™, Sunoptics®, RELOC® Wiring Solutions, eldoLED® and Acuity Controls. For more information, visit www.acuitybrands.com.
# # #
Media Contact:
Ketchum
Kate Thacker
kate.thacker@ketchum.com
404.879.9194
CONTACTS
Kate Thacker

Account Manager

United States

404-879-9278