Acuity Brands Brings Affordable Tunable White LED Lighting to the Education Market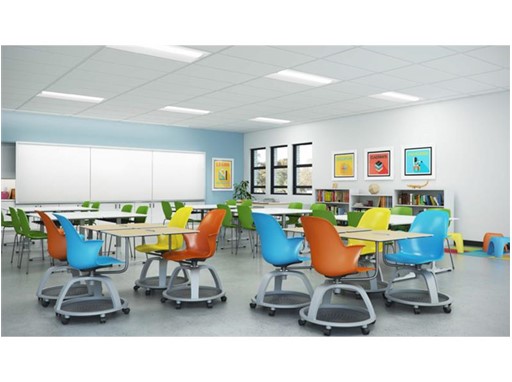 ATLANTA – April 25, 2016 – Acuity Brands, Inc.​(NYSE: AYI) introduces today a breakthrough LED lighting innovation that aims to empower schools to use classroom lighting to improve student learning and attention. The new BLT Series Tunable White Luminaire from Lithonia Lighting® allows both the light level and color temperature to be easily adjusted to the optimal setting for student tasks such as reading or test-taking.

As the newest Mainstream Dynamic lighting offering from Acuity Brands, the BLT Tunable White Luminaire is the first fully digital tunable white solution to be powered by nTune™ technology. nTune technology enables digital control of color temperature and intensity. This new controls solution utilizes the nLight® network from Acuity Controls to deliver tunable white lighting in an economical luminaire with repeatable, consistent performance.
"Research supports the concept that lighting can have a positive effect on learning and attention. Our tunable white solution is perfect in classroom settings as it allows teachers to create task-specific lighting effects at the touch of a button," said Tricia Foster, Director, Education Market Development, Acuity Brands Lighting. "BLT Series luminaires with nTune technology enable lighting adaptability in an elegantly simple, plug and play platform that is priced favorably for the education market."
The fully integrated BLT Tunable White system with nTune technology features a full line of nLight wall stations, including optional pre-set wall pods available with four default productivity settings that support common learning environments:
Collaboration (General Task): (4200K) cool, crisp light ideal for collaboration;
Visual Acuity (Reading): (3000K) warm color for improved visual acuity;
Mental Acuity (Test Taking): (3500K) neutral, non-distracting color temperature; and


Renew (Energy Up): (5000K) cooler, refreshing light to help combat afternoon fatigue.
The new Tunable White system with nTune technology also supports full tunable white programming for custom applications with the SensorView™ web-based suite of remote configuration and monitoring tools from Acuity Controls. Color temperature ranges will be offered in a Productivity Range of 3000K to 5000K that can be pre-set or custom-created for a host of applications and desired options. Both intensity and color can be programmed in the field and are easily reconfigurable.
"nTune technology enables native control of lighting color temperature on the same nLight network that manages motion detection, daylight harvesting and dimming," said David Ciccarelli, VP, Product Development, Acuity Controls. "We're bringing tunable white lighting control into the mainstream with reliable networks and desirable luminaire forms, so that designers and facility operators can tie lighting settings to specific activities and provide lighting that complements colors and materials within a visual environment."
Mainstream Dynamic system features from Acuity Brands include: Tunable White​, white light that shifts seamlessly between color temperatures; Warm Dimming​, which recreates the inviting feeling of halogen sources that produce a "warm" color as they are dimmed; and, Color Changing, ​which takes the classic dynamic lighting effects of color changing so often seen in themed or theatrical settings and makes them accessible for commercial applications.

Acuity Brands will be demonstrating the BLT Series Tunable White Luminaires (Booth #3217) during LIGHTFAIR® International, April 26-28, at the San Diego Convention Center. For more information visit us at BLT Series Tunable White​​.
CONTACTS
Neil Egan

Director, Communications

United States

Neil.Egan@acuitybrands.com

770-860-2957