New Innovative Acuity Brands OLED Luminaires Leverage Unique Characteristics of OLED Technology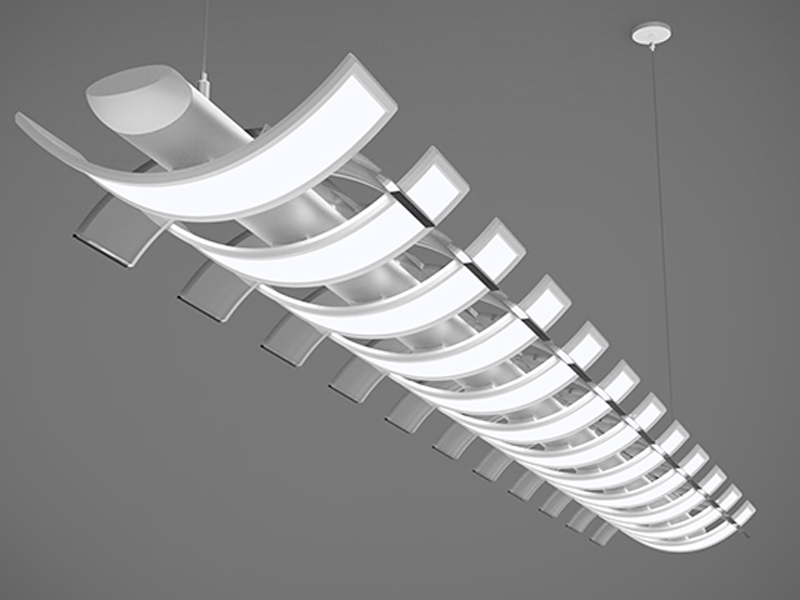 Acuity Brands, Inc.
will be introducing four new OLED luminaire products and concepts at
LIGHTFAIR® International 2014
(LFI), on display at Acuity Brands booth #3808. These fixtures use the next-generation OLED technology from LG Chem to demonstrate exciting advancements in both market-ready products and revolutionary concepts.
Nomi™ OLED sconces are designed as a modern interpretation of a candle flame. These affordable sconces are strikingly contemporary and innately evocative, creating drama and emphasizing beauty as an architectural element in corporate interiors, hospitality and residential settings. Nomi OLED sconces will be offered by Winona® Lighting, an Acuity Brands company. Available commercially summer 2014.
This family of sconces is available in a straight form (using rigid bar-type OLED panels) and a curved form (using bendable bar-type OLED panels) with a front light option, and a front with back lighting option.
Rian™ OLED sconces are under development by Winona Lighting. This family of sconces delivers an artistic statement to create a mix-and-match tapestry of patterns, giving the appearance of light floating in glass over customized patterns, textures and colors. Like an abstract work of art, Rian OLED sconces play with multiple form factors of OLED panels in a complementary fixture design.
The Lumen Being OLED luminaire is an evolutionary OLED concept that ushers in a new way to create glare-free, high-quality personalized lighting through OLED lighting technology and interactive lighting control. New this year, the smartphone enabled interactive user interface allows the user to create pre-set luminance gradients through customizable control.
The Concept AR-14 OLED luminaire re-defines the direct/indirect linear form through ground-breaking blends of light sources, forms and materials. Luminous convex OLED downlight panels - using bendable bar-type OLED panels - alternate with curved concave frosted acrylic panels. The panels envelope a central extruded aluminum center channel housing a high-performance uplight LED optic. This striking luminaire not only delivers glare-free light, but also adds whimsy and elegance.
All products and product concepts feature the availability of three correlated color temperatures (CCT) of 3000K, 3500K and 4000K; color rendering index (CRI) of 85-90; and an L70 rated lifetime of 30,000-40,000 hours.
"OLED lighting is truly a technology for interaction with people because of its soft illumination and the source's ability to be placed close to the user, enabling us to design lighting that can be interactive," said Pete Shannin (
@PeteShannin
), Acuity Brands Lighting General Manager and Vice President, OLED Business Group. "These new fixtures demonstrate how Acuity Brands is expanding its application of OLED lighting technology to support designers' needs for modern architectural environments. This includes offering a portfolio of OLED lighting solutions, which provide distinctive design statements for corporate, hospitality, healthcare, and residential lighting interior applications. They demonstrate the value of OLED, including a minimalist form factor, glare-free white light and design freedom achievable only through OLED lighting."
"We are very excited about these new innovations and to work with a partner like LG Chem who continues to advance OLED technology," said Peter Ngai (
@PeterYNgai
), Acuity Brands Vice President, OLED Lighting. "We are particularly excited about the many new form factors available including bendable OLED technology."
"As a global supplier of the world's leading OLED lighting technology, we are pleased to partner with Acuity Brands," said Joon Park, Vice President, OLED Light Marketing Strategy, OLED Light Division, LG Chem. "Acuity Brands continues to be a progressive partner in harnessing the potential of OLED technology and bringing innovative and relevant products to market, some of which will also be on display in LG Chem's booth #1525 at LFI. We are thrilled that the Acuity Brands and LG Chem partnership is producing OLED lighting products that are among the most innovative luminaires on the market."
To learn more about OLED innovations, technology, and product offerings from Acuity Brands, visit
www.acuitybrands.com/oled
or contact Jeannine Fisher Wang (
@JeannineFWang
)at
Jeannine.Wang@AcuityBrands.com
.
About Acuity Brands
Acuity Brands, Inc. is a North American market leader and one of the world's leading providers of lighting solutions for both indoor and outdoor applications. With fiscal year 2013 net sales of over $2 billion, Acuity Brands employs approximately 6,500 associates and is headquartered in Atlanta, Georgia with operations throughout North America, and in Europe and Asia. The Company's lighting solutions are sold under various brands, including Lithonia Lighting®, Holophane®, Peerless®, Gotham®, Mark Architectural Lighting™, Winona® Lighting, Healthcare Lighting®, Hydrel®, American Electric Lighting®, Carandini®, Antique Street Lamps™, Sunoptics®, Axion™ Controls, Sensor Switch®, Lighting Control & Design™, Synergy® Lighting Controls, Pathway Connectivity Solutions®, Dark to Light®, ROAM®, RELOC® Wiring Solutions, Acculamp® and eldoLED®.
About LG Chem
LG Chem, Ltd. is a Korea- based company with three main businesses: Petrochemicals, IT & Electronic Materials, and Energy Solution. With sales over $23 billion, LG Chem employs over 20,000 people in 15 countries. LG Chem started providing OLED light panels to the lighting market in 2011. Since then, LG Chem has been recognized as a market leader with the industry`s top-performing products across its diverse portfolio. For more information, please visit the LG Chem website at
www.lgchem.com
.
CONTACTS
Neil Egan

Director, Communications

United States

Neil.Egan@acuitybrands.com

770-860-2957